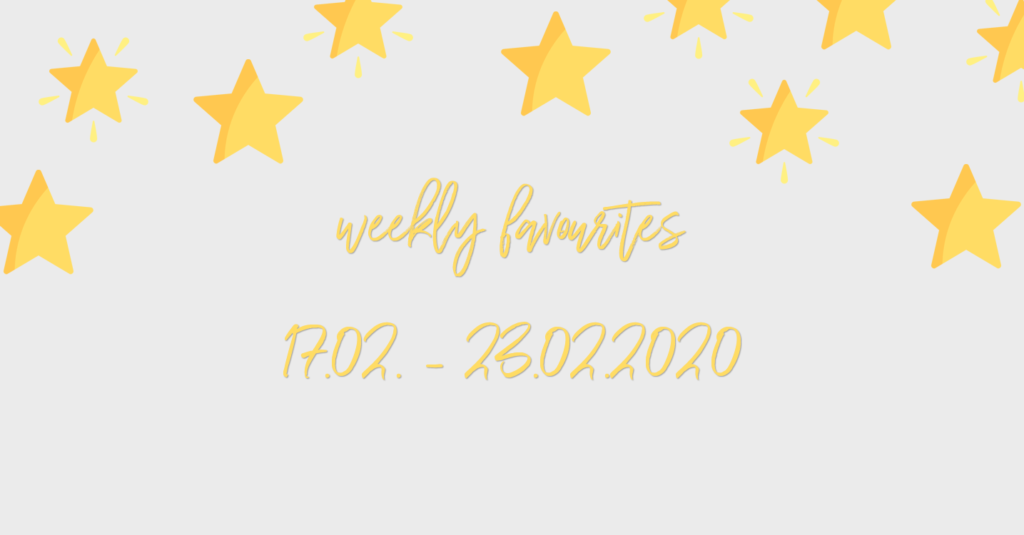 Recently I saw a weekly favourites post by
Rameela
, in which she mentioned what she liked most over the course of the week. I instantly fell in love with this format and wanted to do such a series as well. So let's go and see, what I really liked this week!
bookish
– This week I finished The Queen of Ieflaria by Effie Calvin (review to come!) and it was such a wonderful and refreshing read. It's a cute and short read completely with an arranged marriage, f/f romance, dragons and magic. I'd definitely recommend it if you're looking for something to soothe your soul.
– I started a re-read of Eragon – a book series I loved when I was younger and that started my love with dragons about fifteen years back. It's super exciting for me and I'm already falling in love with the books all over again!
blog posts
– I loved to read about Kate's recent reads that gave her a book hangover. Though I have to admit that I haven't read a single book off of this list, at least six of them are already on my TBR and the other four are veeeeery interesting as well!
– Speaking of books I haven't yet read, I stumbled upon Nikki's review of Wilder Girls. I wasn't sure whether to read it or not, since I heard both good and bad things about it. But this review helped me to decide that I'll ultimately pick this book up!
– Something that made me laugh this week is the Identitiy Crisis Tag done by Evelyn! It was very interesting to see which characters she got and how she reacted about it!
– I also might have fallen in love with First Lines Friday, which I found over at Dini's blog. It sounds like a wonderful way to get a new view of your books and I might pick this one up myself one day!
– To be honest, I haven't been very active when it comes to reading Percy Jackson. I only read the first book (which I liked), but then some other books came in between and I never returned to this series. But (!) Rameela got me hooked with her post If you love Percabeth you'll love…. I just read Brooklyn Nine-Nine and Peraltiago and what can I say? I am always in if I hear mention of these. So maybe it's now time to pick up the Percy Jackson again and finally read the next books!
misc
– I just discovered Billie Eilish's new song for the upcoming James Bond movie and I am SO IN LOVE with it. No Time to Die gives me so many feels and it became my background music this week. I love the dark sounds and the atmosphere it creates, so it's not surprising that it instantly landed on my writing playlist.
– It feels like I've been playing Witcher III non-stop over this week when in reality I played very little. I already collected so many gaming hours since I first started the game in 2017, but my obsession flared up at the ending of 2019 once again and ever since I am immersed in this world.
This was an extremely fun way to look back at the week and see what I liked over the past few days. I'm not sure if I can keep this up for every single week, but this feature will surely make a comeback! What did you love this week?
Lots of love,
Jasmin