June means we're celebrating Pride Month! While every day is a wonderful opportunity to pick up and read a wide array of LGBTQ+ books, June is even more reason to do so. While scouring my own shelves for some fitting reads, I once again had to discover that my shelves don't nearly hold enough books with LGBTQIA+ characters. Knowing that I'm not the only one, I decided to hunt down as many recommendations as I could and share this list with you. The following recommendation masterlist with 110+ LGBTQIA+ books to read is intended to help you find the perfect read, which appeals to your reading taste and what you enjoy overall.
I initially thought about separating the books by representation, but I decided to split it by genre instead. Some books have more than one representation and this way, they won't be on more than one sub-list. Still, the corresponding genre – along with some other information – will be provided for each book. The (OV)-tag at the end of a title indicates an own voices book. I want to mention that while my own time is limited and I haven't been able to read every single book on this list, I've tried to research and compile information for every read. If you think/know that one of the books featured on this list might be harmful to the community, please let me know and I will take it out. On the other hand, please feel free to contact me if you think another book should be featured on here!
Contemporary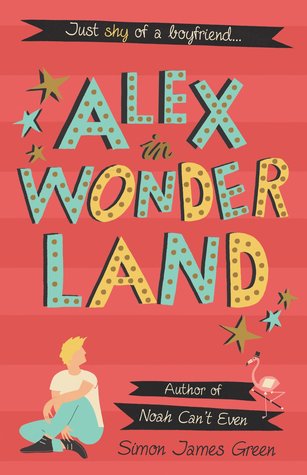 Alex in Wonderland by Simon James Green
Super shy Alex finds a part-time summer job at a run-down amusement arcade, where he finds other teens that help him to come out of his shell. He falls for his co-worker Ben, while at the same time the arcade is threatened to be closed down and mysterious, threatening notes start to appear. Alex and his co-workers-now-turned-friends try to solve this whole mess and save their employer.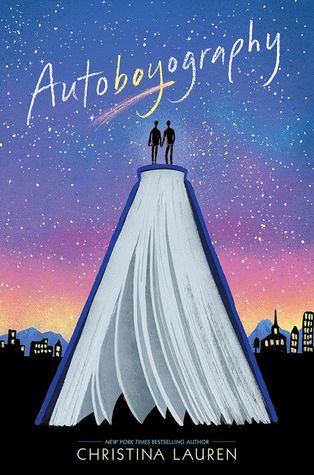 Autoboyography by Christina Lauren
After a move that nudged bisexual Tanner temporarily back into the closet, he now plans to fly through his last semester of high school before attending an out-of-state college. Due to a dare by his best friend, Tanner attends a seminar to draft a book in a semster and starts to fall in love with the mentor of the class.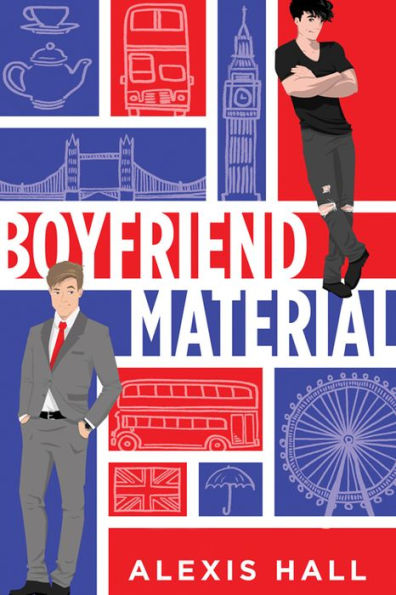 Boyfriend Material by Alexis Hall
Luc O'Donnell lives a life of being famous – mostly because of his parents. After his father makes a comeback, Luc finds himself back in the public eye and one photo dares to unravel everything he knows. To counteract, he seeks out Oliver Blackwood and the two of them engage in a public, but faked relationship. At least until it doesn't feel so faked anymore.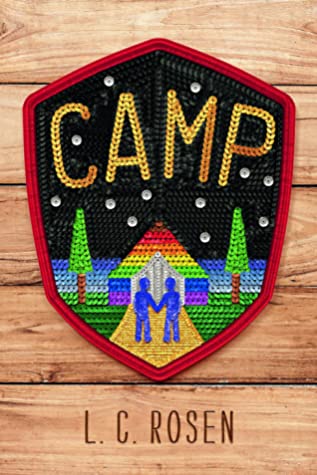 Camp by L. C. Rosen
Randy Kapplehoff loves spending the summer at Camp Outland, a camp for queer teens. There he met – and fell for – Hudson Aaronson-Lim, a guy who's so not into Randy. This year, Randy changed his whole self to finally gain Hudson's attention and get him to fall in love. But although his plan works and the two of them grow closer, Randy quickly needs to figure out if this love is worth to being himself.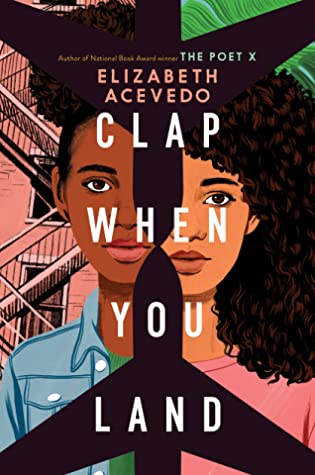 Clap When You Land by L. C. Rosen
Camino Rios and Yahaira Rios live their lifes without knowing each other. One fateful day, they are told that their father has died in a plane crash. Grief-stricken, they have to learn to navigate a world that has completely changed. When it seems like they've lost everything of their father, they learn of each other.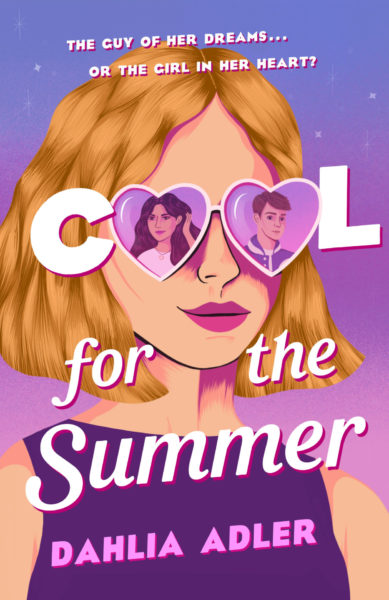 Cool for the Summer by Dahlia Adler (OV)
Lara has everything she ever wanted: a tight-knit group of friends, a job that borders on cool, and Chase, the boy of her literal dreams. But if she's finally got the guy, why can't she stop thinking about a confusing, romantic, strangely perfect summer spent with a girl named Jasmine?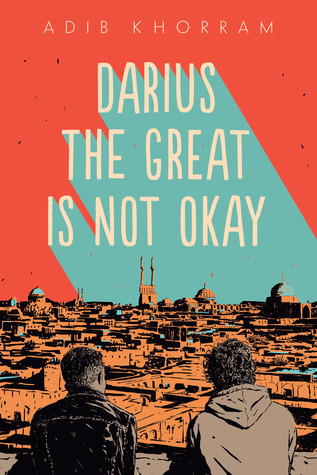 Darius the Great Is Not Okay by Adib Khorram
Darius – who has a questionable social life at best – is about to take his first-ever trip to Iran. There, he gets to know the rest of his mom's family for the first time. And he meets Sohrab, the boy next door who changes everything. With him, Darius feels like a True Persian for the first time. With Sohrab, Darius feels more like himself than ever. When it's time to go home to America, he'll have to find a way to be himself on his own.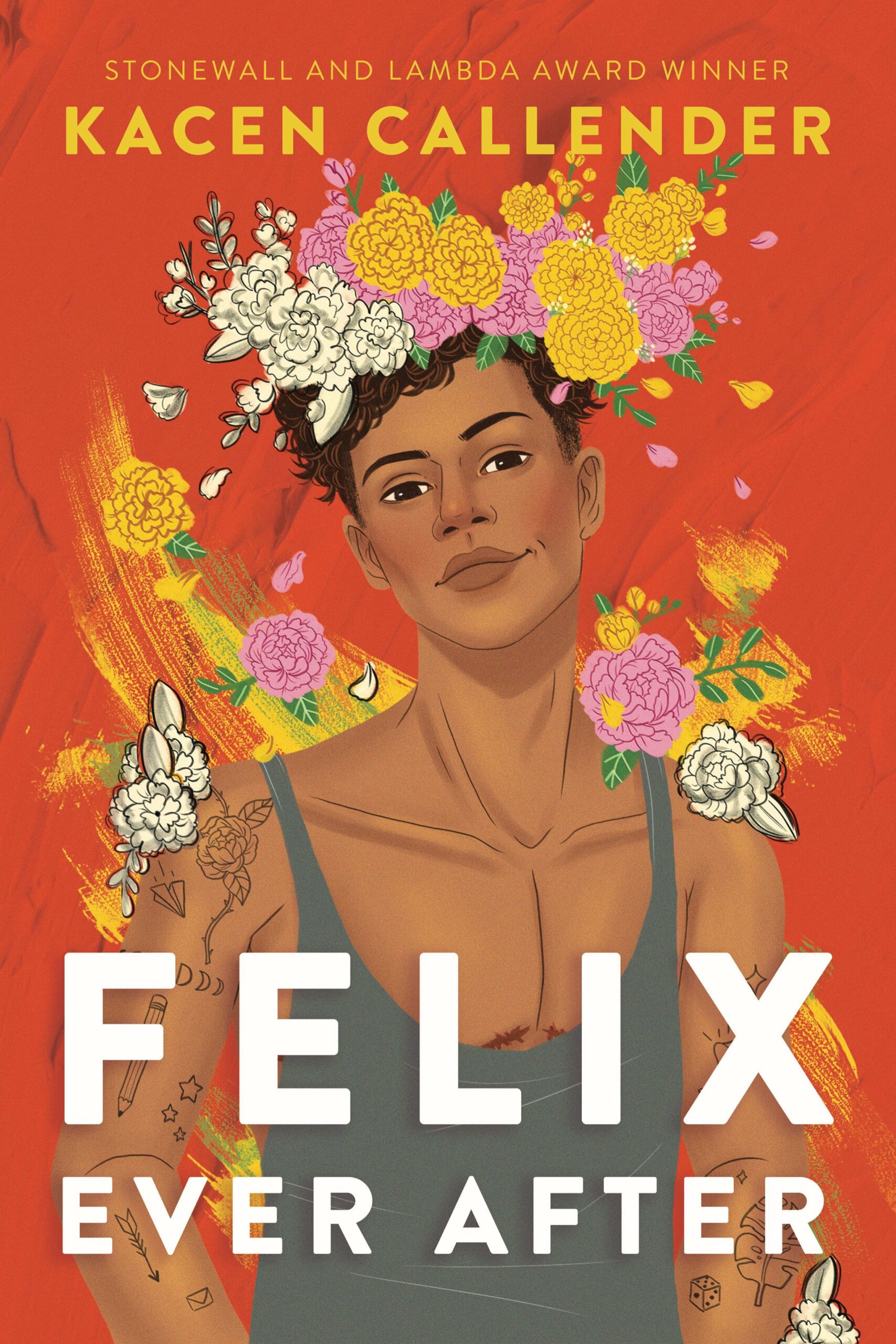 Felix Ever After by Kacen Callender (OV)
Felix Love has never been in love and desperately wants to know what it's like. When an anonymous student begins sending him transphobic messages (among other things), Felix comes up with a plan for revenge. He didn't plan to end up in a quasi–love triangle. Felix begins a journey of questioning and self-discovery that helps redefine his most important relationship: how he feels about himself.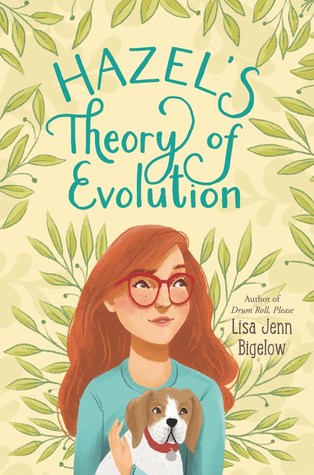 Hazel's Theory of Evolution by Lisa Jenn Bigelow
Hazel knows a lot about the world. That's because she loves reading through dusty encyclopedias. But even Hazel doesn't have answers for the questions awaiting her as she enters eighth grade. As Hazel struggles to cope, she'll come to realize that sometimes you have to look within yourself — instead of the pages of a book — to find the answers to life's most important questions.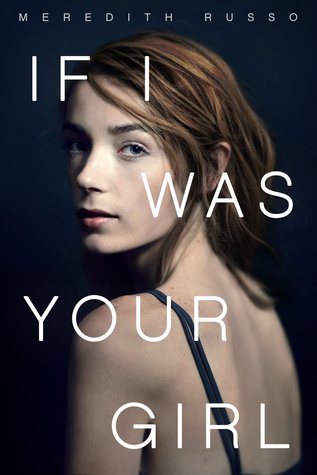 If I Was Your Girl by Meredith Russo (OV)
Amanda is the new girl in school. Like anyone else, all she wants is to make friends and fit in. But she is keeping a secret and determined not to get too close to anyone. When she meets Grant, Amanda can't help but start to let him into her life. Amanda's terrified that once she tells him the truth, he won't be able to see past it. Because at her old school, she used to be Andrew. Will the truth cost Amanda her new life?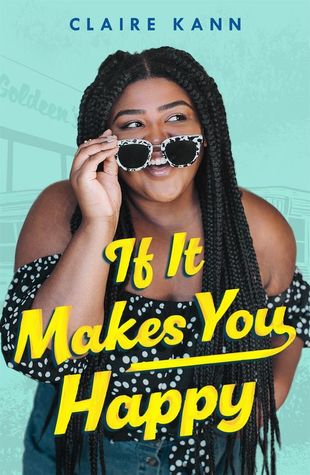 If It Makes You Happy by Claire Kann (OV)
With high school finally behind her, Winnie spends her summer days working at her granny's diner. She dreams of someday inheriting the diner — but it'll go away if they can't make money, and fast. Winnie has a solution — win a televised cooking competition and make bank. But Granny doesn't want her to enter — so Winnie has to find a way around her formidable grandmother. Can she come out on top?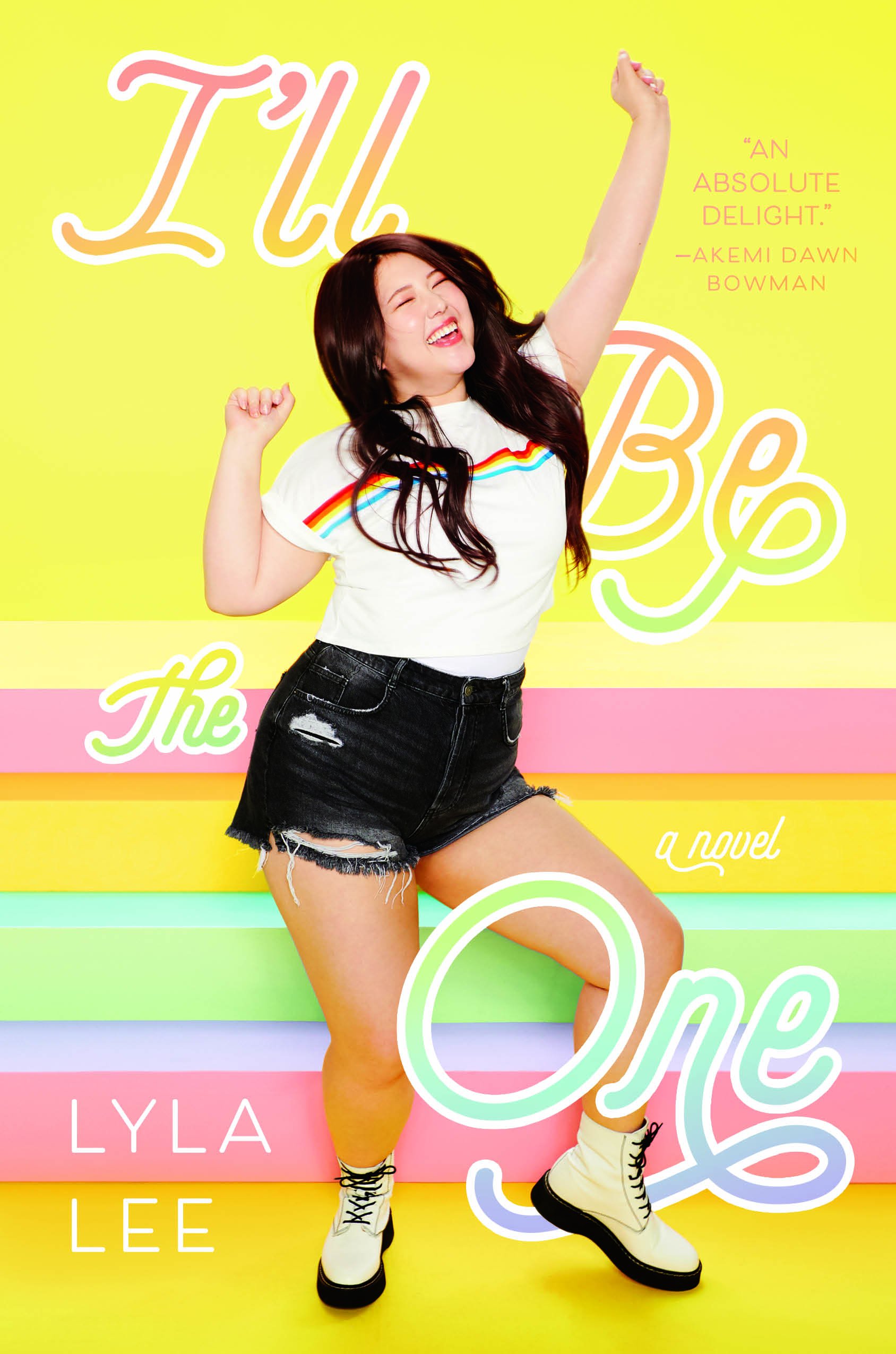 I'll Be The One by Lyla Lee (OV)
Skye dreams of joining the glittering world of K-Pop, and to do that, she's about to break all the rules that the world has set for girls like her. When Skye nails her audition in an internationally televised competition, she's immediately swept into the drama that comes with reality TV. But Skye has her sights on becoming the world's first plus-sized K-pop star, and that means winning the competition — without losing herself.
I'll Give You the Sun by Jandy Nelson
The story follows Jude and her twin brother Noah, who were inseparable. Noah was falling in love with the charismatic boy next door, while daredevil Jude did all the talking for both of them. The early years are Noah's to tell; the later years are Jude's. But they each have only half the story, and if they can only find their way back to one another, they'll have a chance to remake their world.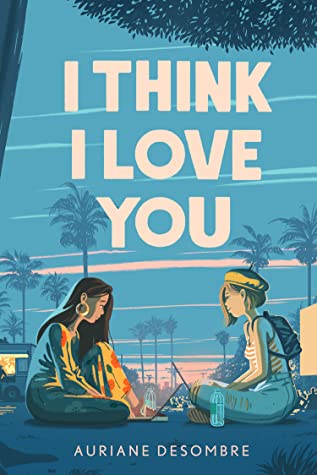 I Think I Love You by Auriane Desombre
Emma is a die-hard romantic. She is dreaming up the Gay Rom Com of her heart for the film festival competition she and her friends are entering. Sophia is pragmatic and knows what will win: an artistic film with a message. Cue the drama. The movie is doomed before they even start shooting … until a real-life plot twist unfolds behind the camera. Suddenly their rivalry is starting to feel like an actual rom-com.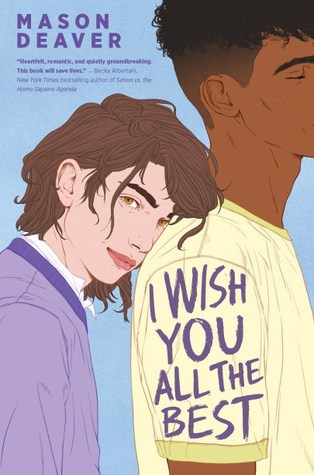 I Wish You All the Best by Mason Deaver (OV)
When Ben comes out to their parents as nonbinary, they're thrown out of their house and forced to move in with their estranged older sister and her husband. Struggling with an anxiety disorder, they try to keep a low profile in a new school. But when a fellow student decides to take Ben under his wing, their feelings for each other begin to change, and it might just be a chance to start a happier new life.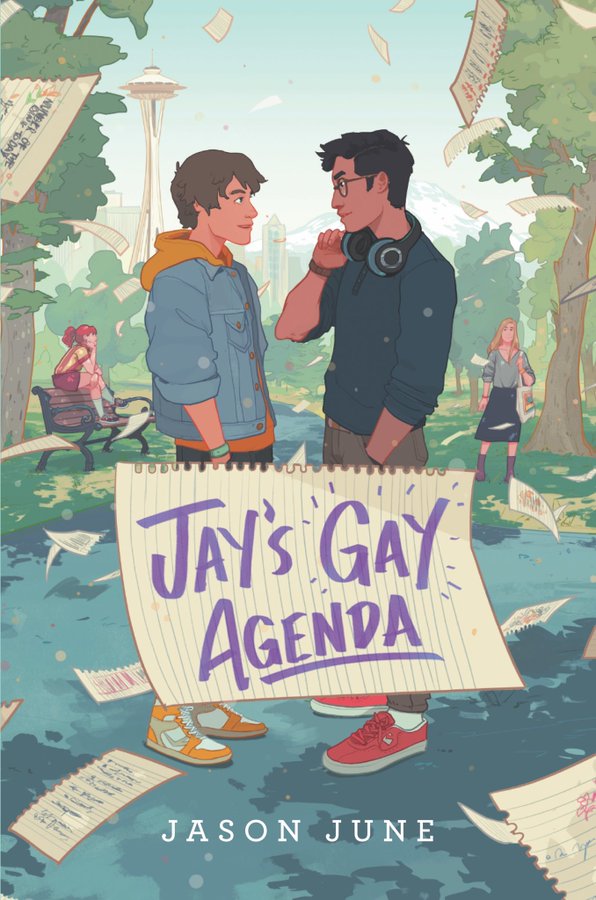 Jay's Gay Agenda by Jason June (OV)
As the only out gay kid in his small rural Washington town, jay puts together a romance to-do list of all the things he hopes to one day experience—his Gay Agenda. Against all odds, Jay's family moves to Seattle and he starts his senior year at a new high school with a thriving LGBTQIA+ community. But as Jay begins crossing items off his list, he realizes that after all, life and love don't always go according to plan.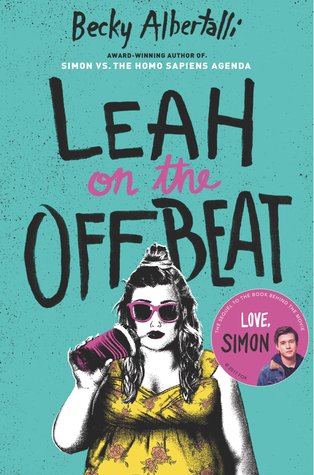 Leah on the Offbeat by Becky Albertalli (OV)
When it comes to drumming, Leah is usually on beat — but real life isn't always so rhythmic. Even though her mom knows she's bisexual, she hasn't mustered the courage to tell her friends. So Leah really doesn't know what to do when her friend group starts to fracture. It's hard for Leah to strike the right note while the people she loves are fighting—especially when she realizes she might love one of them more than she thought.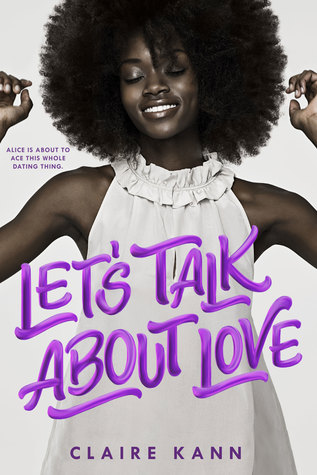 Let's Talk About Love by Claire Kann (OV)
Alice had her whole summer planned – the only thing missing is her girlfriend, who ended things when Alice confessed she's asexual. Alice is done with dating, but then she meets Takumi and she can't stop thinking about him. When her blissful summer takes an unexpected turn, and Takumi becomes her knight with a shiny library employee badge, Alice has to decide if she's willing to risk their friendship.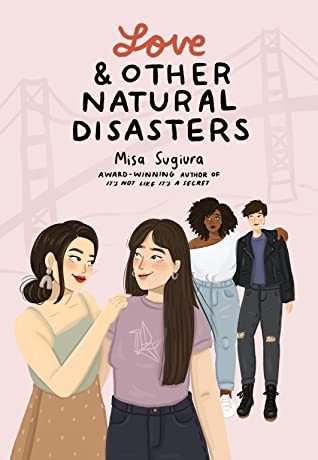 Love and Other Natural Disasters by Misa Sugiura
When Nozomi pictured the ideal summer romance, a fake one wasn't what she had in mind. That was before she met the perfect girl. When Willow enlists Nozomi to pose as her new girlfriend to make her ex jealous, Nozomi is a willing volunteer. Because Nozomi has a master plan of her own: to turn their fauxmance into something real. But as the lies pile up, it's not long before Nozomi's schemes take a turn toward disaster.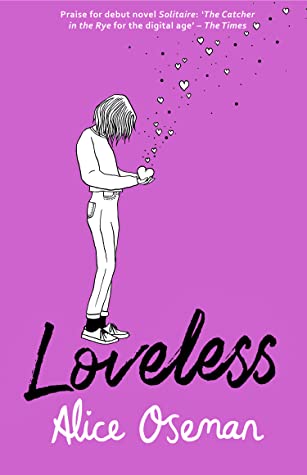 Loveless by Alice Oseman (OV)
Georgia has never been in love, never kissed anyone, never even had a crush – but as a fanfic-obsessed romantic she's sure she'll find her person one day. As she starts university, she's ready to find romance, and with her outgoing roommate on her side and a place in the Shakespeare Society, her teenage dream is in sight. But soon Georgia starts to question why love seems so easy for other people but not for her.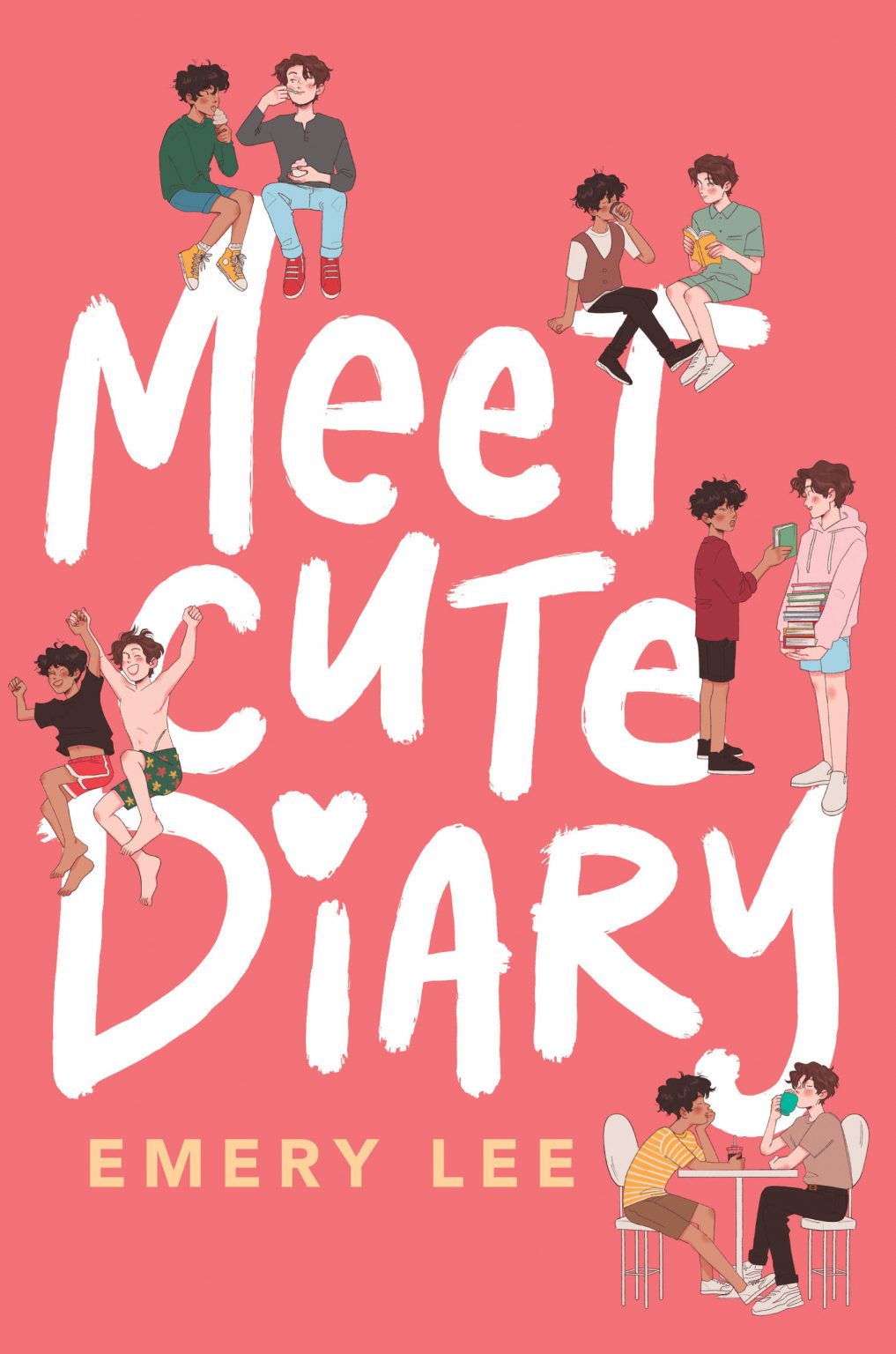 Meet Cute Diary by Emery Lee
Noah thinks he's an expert on romance. He has to be for his popular blog, the Meet Cute Diary, a collection of trans happily ever afters. The problem is that all the stories are fake. What started as the fantasies of a trans boy has grown into a beacon of hope for trans readers across the globe. When a troll exposes the blog as fiction, Noah's world unravels. The only way to save the Diary is to convince everyone that the stories are true.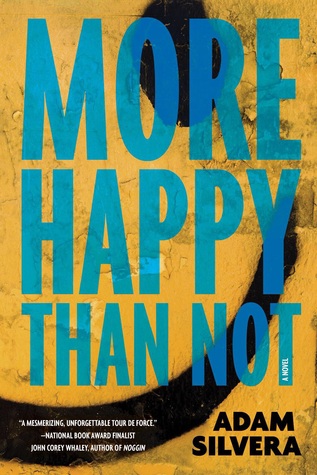 More Happy Than Not by Adam Silvera (OV)
Aaron is struggling to find happiness after a family tragedy leaves him reeling. He's slowly remembering what happiness feels like with the support of his girlfriend Genevieve, but it's his new best friend, Thomas, who really gets him to open up about his past and confront his future. As the two of them get closer, Aaron discovers things about himself that threaten to shatter his newfound contentment. A revolutionary memory-alteration procedure might be the way to straighten himself out. But what if he forgets who he truly is?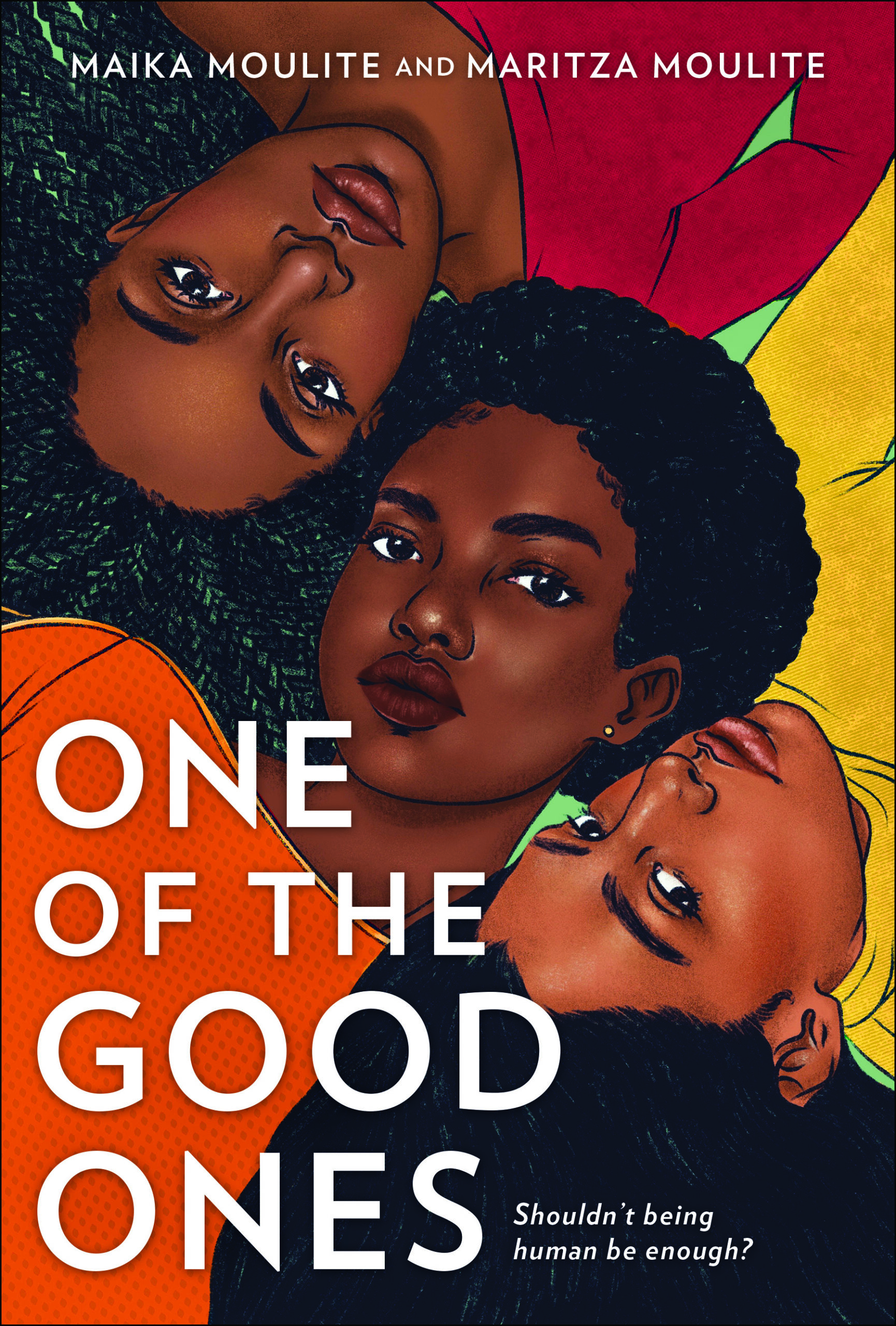 One of the Good Ones by Maika Moulite and Maritza Moulite
When teen social activist Kezi is killed under mysterious circumstances after attending a social justice rally, her devastated sister Happi and their family are left reeling in the aftermath. As Kezi becomes another immortalized victim in the fight against police brutality, Happi begins to question the idealized way her sister is remembered. Happi and her sister Genny embark on a journey to honor Kezi in their own way. But there's a twist to Kezi's story that no one could've ever expected — one that will change everything all over again.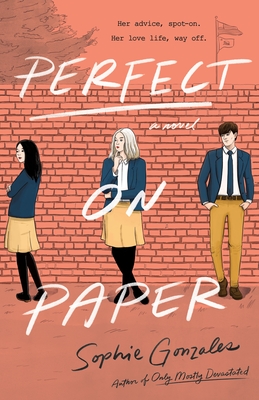 Perfect on Paper by Sophie Gonzales
One day, Darcy gets caught by Alexander Brougham in the act of collecting letters from locker 89 ― out of which she's been running her questionably legal, anonymous relationship advice service. In exchange for keeping her secret, Darcy begrudgingly agrees to become his personal dating coach. Darcy has a good reason to keep her identity secret. If word gets out that she's behind the locker, some things she's not proud of will come to light, and there's a good chance her best friend will never speak to her again.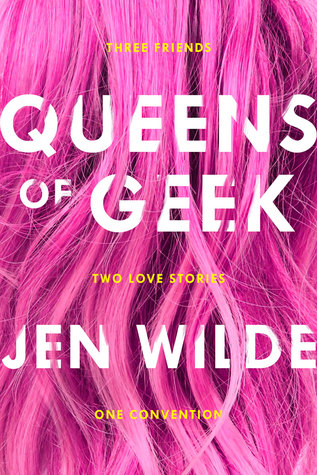 Queens of Geek by Jen Wilde (OV)
Charlie likes to stand out. She's a vlogger and actress promoting her first movie at SupaCon. When actress Alyssa Huntington arrives as a surprise guest, it seems Charlie's long-time crush on her isn't as one-sided as she thought. Taylor likes to blend in, fearing change. And there's one thing in her life she knows will never change: her friendship with her best guy friend Jamie — no matter how much she may secretly want it to. But when she hears about a contest for her favorite fandom, she starts to rethink her rules on playing it safe.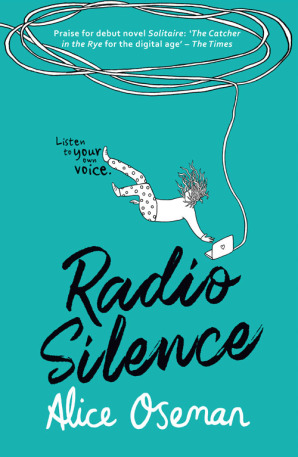 Radio Silence by Alice Oseman
Frances spends most of her time studying. Everyone knows Aled as that quiet boy who gets straight As. The two of them make a podcast. In a world determined to shut them up, knock them down, and set them on a cookie cutter life path, Frances and Aled struggle to find their voices over the course of one life-changing year. Will they have the courage to show everyone who they really are? Or will they be met with radio silence?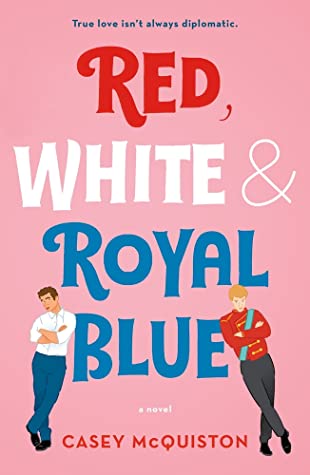 Red, White & Royal Blue by Casey McQuiston (OV)
First Son Alex Claremont-Diaz is the closest thing to a prince this side of the Atlantic. International socialite duties do have downsides — namely, when photos of a confrontation with his longtime nemesis Prince Henry at a royal wedding leak to the tabloids and threaten American/British relations. The plan for damage control: staging a fake friendship between the First Son and the Prince. Alex finds himself hurtling into a secret relationship with Henry that could derail the campaign and upend two nations.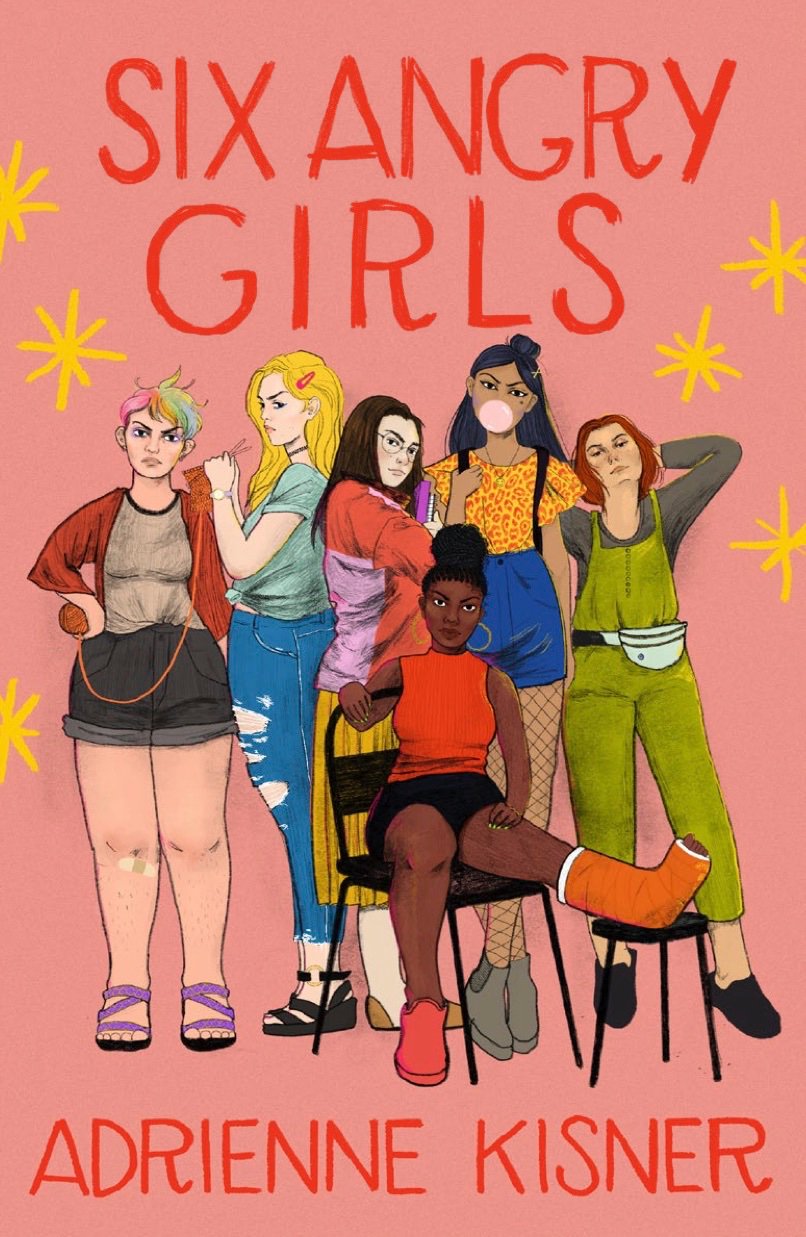 Six Angry Girls by Adrienne Kisner
Raina is crushing her senior year, until her boyfriend and the drama club dump her, the college of her dreams slips away, and her arch-nemesis triumphs. Millie's father treats her like a servant, and the all-boy Mock Trial team votes her out, even after she spent the last three years helping to build its success. Following unlikely meeting in the girls' bathroom, Raina inspires Millie to start a rival team. The two join together and recruit four other angry girls to not only take on Mock Trial, but to smash the patriarchy in the process.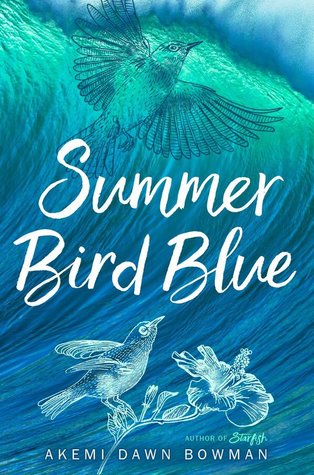 Summer Bird Blue by Akemi Dawn Bowman
Rumi spends a lot of time worrying she doesn't have the answers to everything. But there is one thing she is absolutely sure of — she wants to spend the rest of her life writing music with her younger sister, Lea. Then Lea dies in a car accident, and her mother sends her away to live with her aunt in Hawaii. Now thousands of miles from home, Rumi struggles to navigate the loss of her sister, being abandoned by her mother, and the absence of music in her life. With the help of the "boys next door" Rumi attempts to find her way back.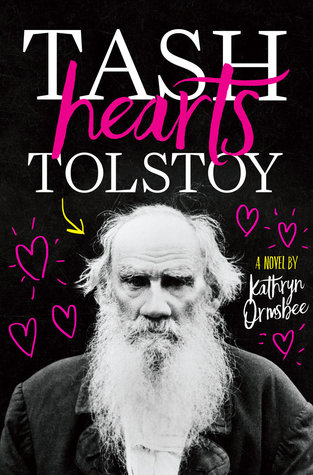 Tash Hearts Tolstoy by Kathryn Ormsbee
After a shout-out from a superstar vlogger, Natasha "Tash" finds herself and her web series thrust into the limelight. Her show is a modern adaptation of Anna Karenina — written by Tash's literary love Leo Tolstoy. Tash is a fan of the forty thousand new subscribers. Not so much the pressure behind it. And when the series is nominated for an award, Tash's cyber-flirtation with a fellow award nominee suddenly has the potential to become something IRL — if she can figure out how to tell said crush that she's romantic asexual.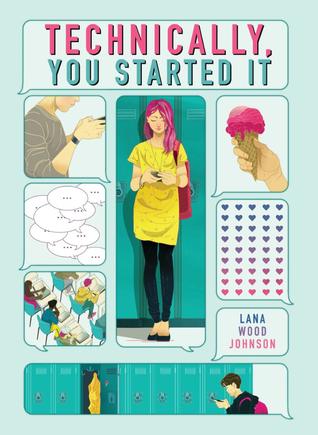 Technically, You Started It by Lana Wood Johnson
When a guy named Martin Nathaniel Munroe II texts you, it should be obvious who you're talking to. Except there's two of them, and Haley thinks she's talking to the one she doesn't hate. Haley and Martin might be too awkward to hang out in real life, but over text, they're becoming addicted to each other. There's just one problem: Haley doesn't know who Martin is. And Martin doesn't know that Haley doesn't know.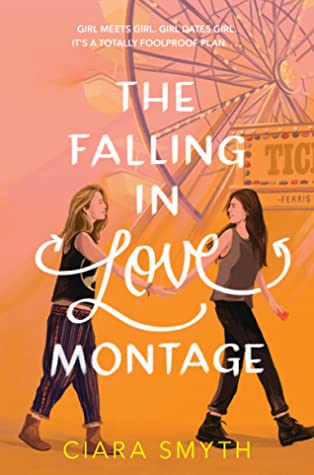 The Falling in Love Montage by Ciara Smyth (OV)
Saoirse doesn't believe in love at first sight or happy endings. She's not looking for a relationship and doesn't see the point in igniting any romantic sparks if she's possibly inheriting her mother's dementia. But after a chance encounter at an end-of-term house party, Saoirse is about to break her own rules. For a girl with one blue freckle, an irresistible sense of mischief, and a passion for rom-coms.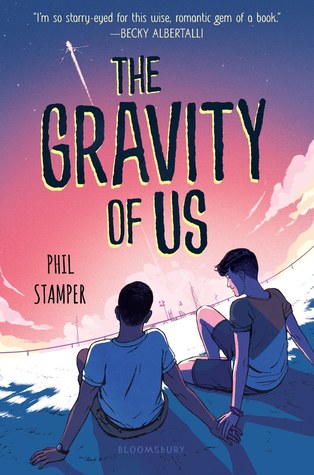 The Gravity of Us by Phil Stamper (OV)
As someone with half a million followers, Cal is used to sharing his life online. But when his pilot father is selected for a highly publicized NASA mission to Mars, the family relocates to Houston and are thrust into a media circus. Amidst the chaos, Cal meets Leon, another "Astrokid", and finds himself falling head over heels. As the frenzy around the mission grows, so does their connection. But when secrets are uncovered, Cal must find a way to reveal the truth without hurting the people who have become most important to him.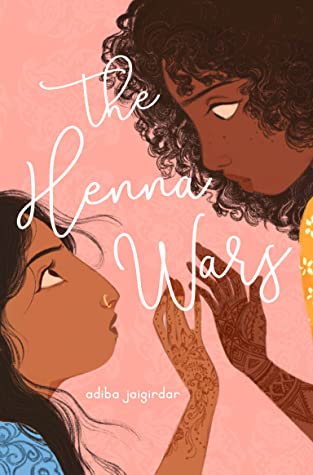 The Henna Wars by Adiba Jaigirdar (OV)
When Nishat comes out to her parents, they say she can be anyone she wants — as long as she isn't herself. Nishat doesn't want to hide who she is, but she also doesn't want to lose her relationship with her family. During a school competition, both Nishat and her childhood friend Flávia choose to do henna, even though Flávia is appropriating Nishat's culture. Amidst sabotage and school stress, their lives get more tangled — but Nishat can't quite get rid of her crush on Flávia, and realizes there might be more to her than she realized.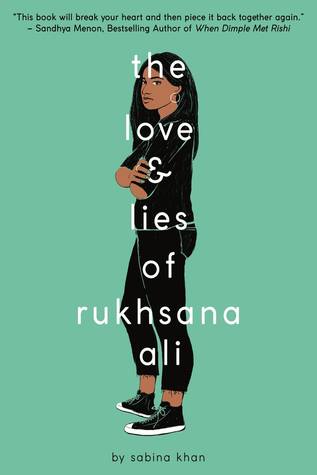 The Love & Lies of Rukhsana Ali by Sabina Khan
Rukhsana Ali tries her hardest to live up to her conservative Muslim parents' expectations, but lately she's finding that harder and harder to do. Luckily, only a few more months stand between her and her new life at Caltech, where she can pursue her dream of becoming an engineer. But when her parents catch her kissing her girlfriend Ariana, all of Rukhsana's plans fall apart. Her parents immediately whisk her off to Bangladesh, where she is thrown headfirst into a world of arranged marriages and tradition.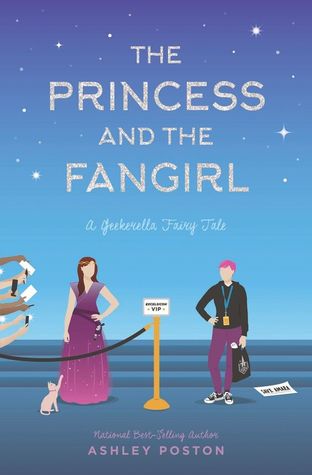 The Princess and the Fangirl by Ashely Poston (OV)
Imogen is a fangirl on an impossible mission: save her favorite character, Princess Amara, from being killed off from her favorite franchise. The problem is, Jessica — the actress who plays Princess Amara — wants nothing more than to leave the intense scrutiny of the fandom behind. When a case of mistaken identity throws look-a-likes Imogen and Jess together, they quickly become enemies. But when the script for the Starfield sequel leaks, and all signs point to Jess, she and Imogen must trade places to find the person responsible.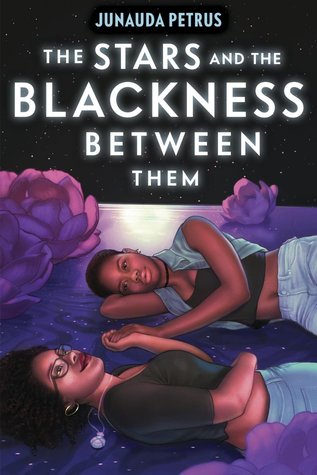 The Stars and the Blackness Between Them by Junauda Petrus
In Trinidad, Audre just found out she's going to be sent to live in America because her strictly religious mother caught her with her secret girlfriend. In Minneapolis, Mabel is trying to figure out why she feels the way she feels. Mabel's reverie is cut short when her father announces that his best friend and his just-arrived-from-Trinidad daughter are coming for dinner. Mabel falls hard and is determined to take care of Audre. But their romance takes a turn when test results reveal why Mabel has been feeling low-key sick all summer.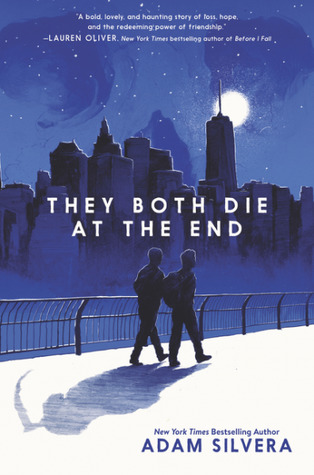 They Both Die at the End by Adam Silvera (OV)
On September 5, a little after midnight, Death-Cast calls Mateo and Rufus to give them some bad news: They're going to die today. Mateo and Rufus are total strangers, but, for different reasons, they're both looking to make a new friend on their End Day. The good news: There's an app called the Last Friend, and through it, Rufus and Mateo are about to meet up for one last great adventure — to live a lifetime in a single day.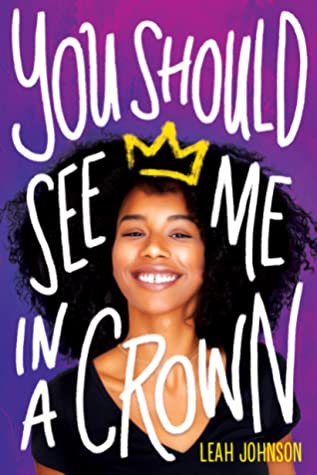 You Should See Me in a Crown by Leah Johnson (OV)
Liz Lighty has always believed she's too black, too poor, too awkward to shine in her small midwestern town. But it's okay – Liz has a plan to attend the uber-elite Pennington College. Due to unexpected hardships, Liz's plans come crashing down, until she's reminded of her school's scholarship for prom king and queen. There's nothing Liz wants to do less, but she's willing to do whatever it takes to get to Pennington. The only thing that makes it halfway bearable is the new girl in school, Mack. But Mack is also in the running for queen…
Romance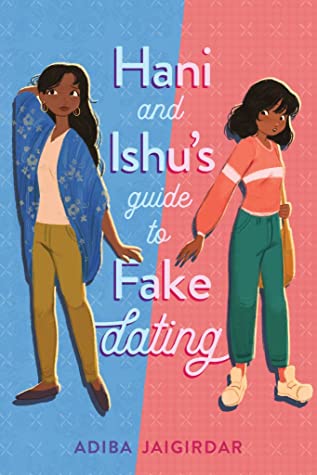 Hani and Ishu's Guide to Fake Dating by Adiba Jaigirdar (OV)
Everyone likes Hani — she's one of the most popular girls at school. But when she comes out to her friends as bisexual, they invalidate her identity. Panicked, Hani blurts out that she's in a relationship with someone her friends hate — Ishu, the complete opposite of Hani. An academic overachiever who hopes that becoming head girl will set her on the right track for college. But Ishu agrees to help Hani. Despite their mutually beneficial pact, they start developing real feelings for each other. But relationships are complicated…
Honey Girl by Morgan Rogers (OV)
With her PhD in astronomy in hand, Grace goes on a girls' trip to Vegas to celebrate. She's a straight A, work-through-the-summer certified high achiever. She is not the kind of person who goes to Vegas and gets drunkenly married to a woman whose name she doesn't know … until she does exactly that. Staggering under the weight of her father's expectations, a struggling job market and feelings of burnout, Grace flees her home in Portland for a summer in New York with the wife she barely knows.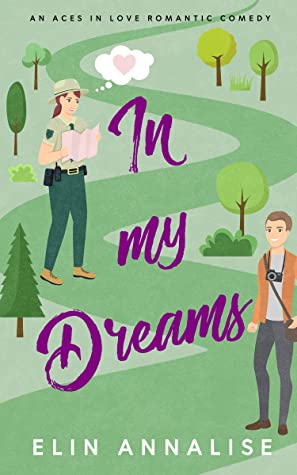 In My Dreams by Elin Annalise (OV)
Twenty-five-year-old Polly Brady was supposed to fly off on a dating holiday to meet others, like her, who identify as asexual, but when the nature reserve she works at goes into lockdown after a terrorist attack, she finds herself stuck with Harry Weller, her childhood friend and the only man she's ever loved.

Note: This book is part of a series named Aces in Love , which features more stories centered around A-Spec characters.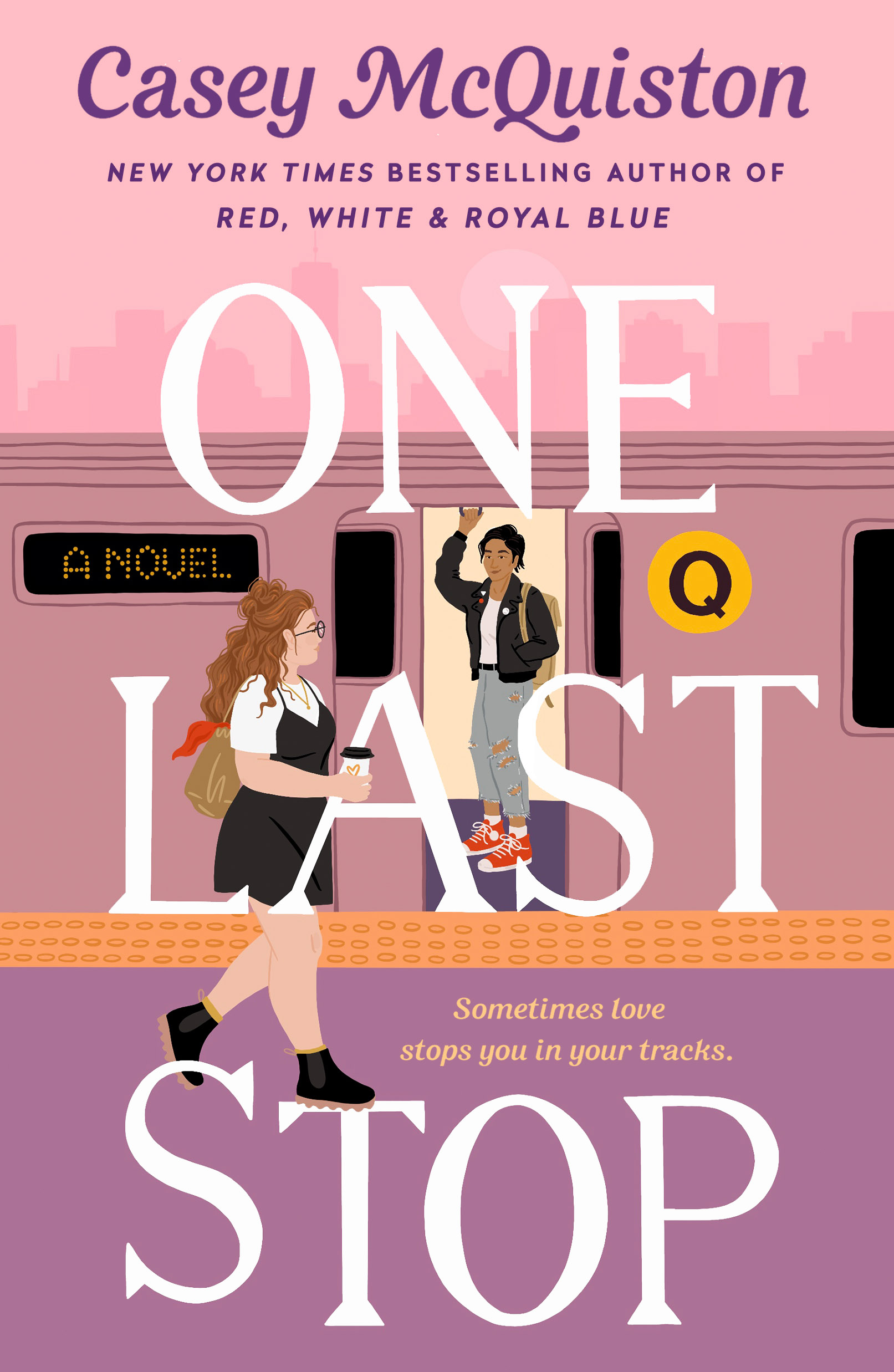 One Last Stop by Casey McQuiston (OV)
For August, moving to New York City is supposed to prove her right: that things like magic and cinematic love stories don't exist, and the only way to go through life is alone. And there's certainly no chance of her subway commute being anything more than a daily trudge. But then, there's this girl on the train – Jane. August's subway crush becomes the best part of her day, but pretty soon, she discovers that Jane is literally displaced in time, and August is going to have to use everything she tried to leave in her own past to help her.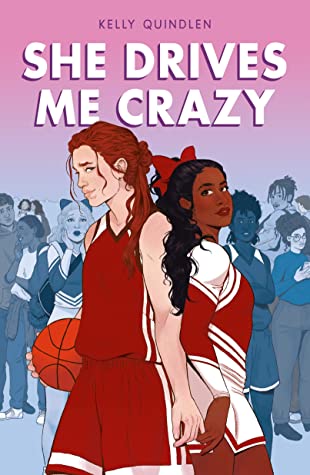 She Drives Me Crazy by Kelly Quindlen (OV)
After losing spectacularly to her ex-girlfriend in their first game since their break up, Scottie gets into a fender bender with her nemesis, the incredibly beautiful mean Irene. Things only get worse when their nosey moms get involved and the girls are forced to carpool together until Irene's car gets out of the shop. Their bumpy start only gets bumpier the more time they spend together. But when an opportunity presents itself for Scottie to get back at her toxic ex, she bribes Irene into playing along.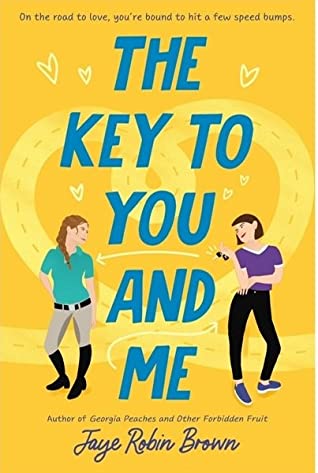 The Key to You and Me by Jaye Robin Brown (OV)
Piper is spending the summer living with her grandmother, training at the barn of a former Olympic horseback rider, and trying to get over her ex-girlfriend. Much to Piper's dismay, her grandmother is making her face her fear of driving head-on by taking lessons from a girl in town. Kat has always suspected that she likes girls but fears her North Carolina town is too small to color outside the lines. But when Piper's grandmother hires Kat to give her driving lessons, everything changes.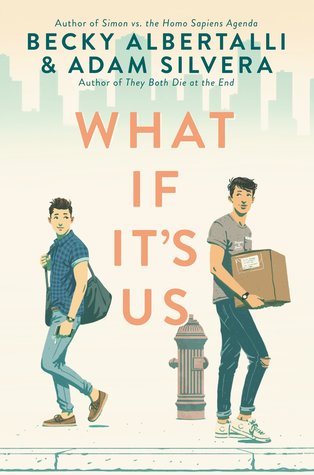 What If It's Us by Becky Albertalli and Adam Silvera (OV)
Arthur is only in New York for the summer, but if Broadway has taught him anything, it's that the universe can deliver a showstopping romance when you least expect it. Ben thinks the universe needs to mind its business. If the universe had his back, he wouldn't be on his way to the post office carrying a box of his ex-boyfriend's things. But when Arthur and Ben meet-cute at the post office, what exactly does the universe have in store for them?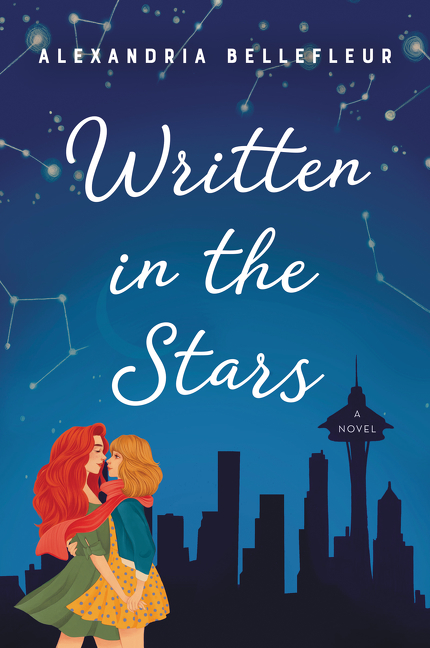 Written in the Stars by Alexandria Bellefleur (OV)
After a disastrous blind date, Darcy is desperate to stop her well-meaningbrother from playing matchmaker. So she fibs and says her latest set up was a success. Elle , one of the astrologers behind the popular Twitter account, Oh My Stars, dreams of finding her soul mate. But she knows it is most assuredly not Darcy. When Darcy's brother expresses how happy he is that they hit it off, Elle is baffled. Was Darcy on the same date? Because… awkward. When Darcy begs Elle to play along, she agrees to pretend they're dating.
Fantasy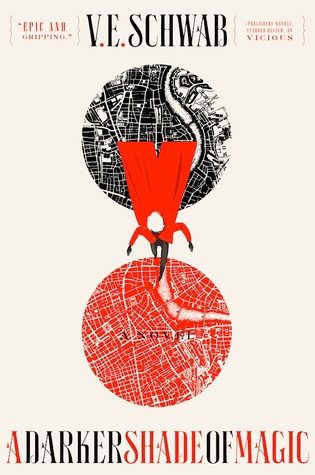 A Darker Shade of Magic by V. E. Schwab (OV)
Kell is one of the last Antari — rare magicians with the ability to travel between parallel Londons. Kell was raised in Red London and officially serves as an ambassador, traveling between White London and the dullest of Londons, the one without any magic left to see. After an exchange goes awry, Kell escapes to Grey London and runs into Delilah Bard, a cut-purse with lofty aspirations. She first robs him, then saves him from a deadly enemy, and finally forces himto spirit her to another world.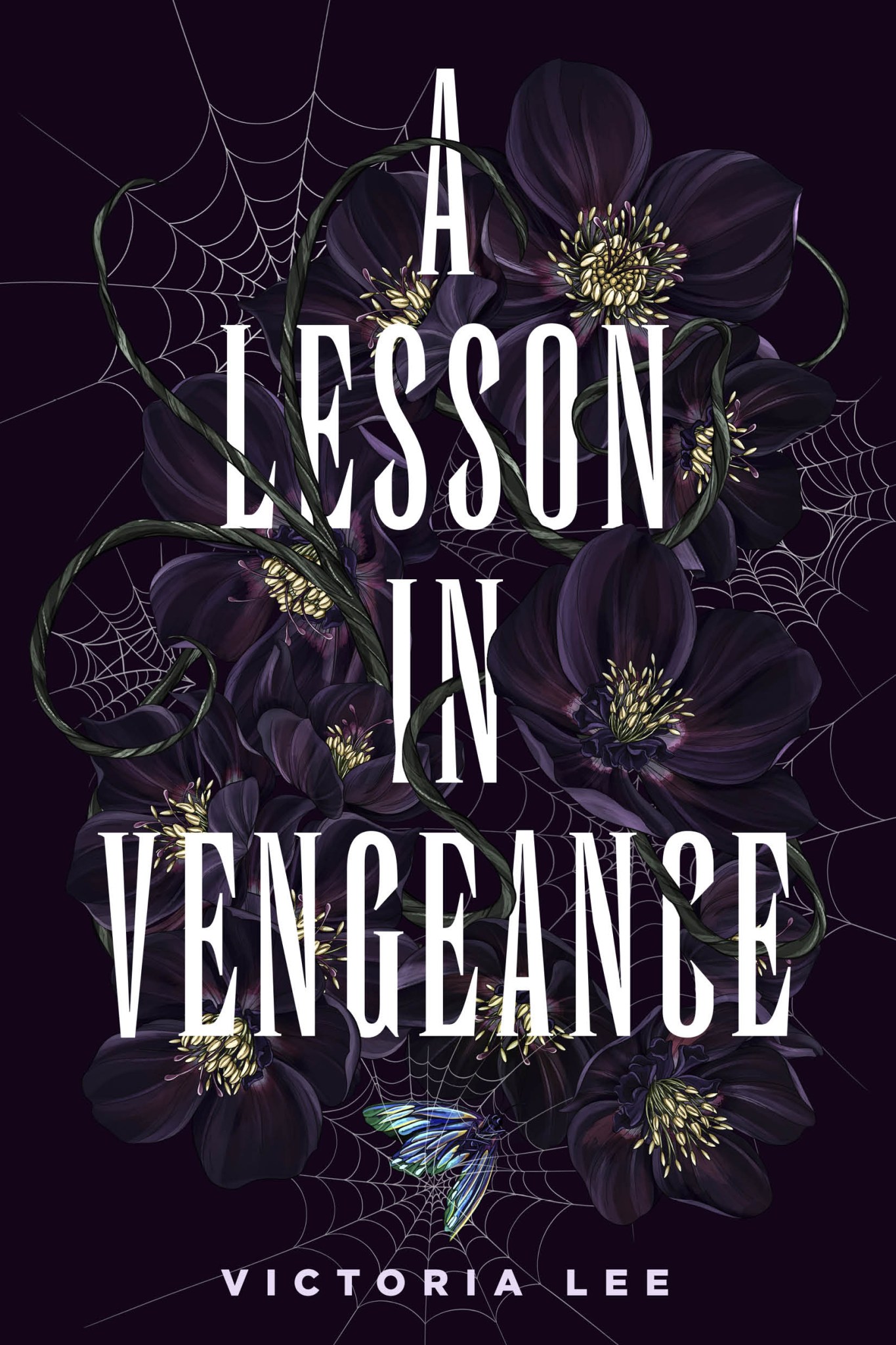 A Lesson in Vengeance by Victoria Lee (OV)
Felicity Morrow is back at Dalloway School, her home until the death of her girlfriend. Witchcraft is woven into Dalloway's history. In secret rooms and shadowy corners, girls convene. Before her girlfriend died, Felicity was drawn to the dark. She's determined to leave that behind; but it's hard when the occult history is everywhere. It's Ellis's first year at Dalloway. She's eccentric and brilliant, and Felicity can't shake the pull she feels to her. And when history begins to repeat itself, Felicity will have to face the darkness in Dalloway – and in herself.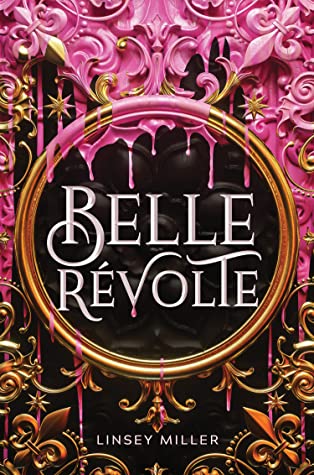 Belle Révolte by Linsey Miller (OV)
Emilie is desperate to escape her noble roots to serve her country as a physician. But society dictates a noble lady cannot perform such gruesome work. Annette, overlooked and overworked by her family, wants more from life than her humble beginnings and is desperate to be trained in magic. So when a strange noble girl offers Annette the chance of a lifetime, she accepts. Emilie and Annette swap lives, but when their nation instigates a terrible war, they come together to help the rebellion unearth the truth before it's too late.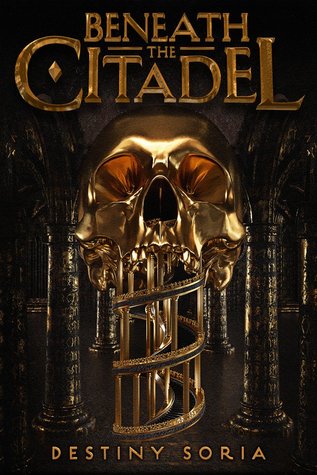 Beneath the Citadel by Destiny Soria
In the city of Eldra, people are ruled by ancient prophecies. After the last infallible prophecy came to pass, growing unrest led to murders and an eventual rebellion that raged for more than a decade.
 
In the present day, Cassa is determined to fight back against the high council, which governs Eldra from behind the walls of the citadel. Her only allies are no-nonsense Alys, easygoing Evander, and perpetually underestimated Newt, and Cassa struggles to come to terms with the legacy of rebellion her dead parents have left her.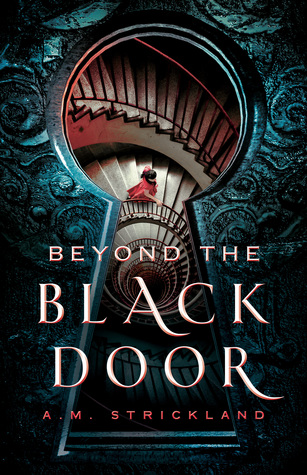 Beyond the Black Door by A. M. Strickland (OV)
Everyone has a soul. Some are beautiful gardens, others are frightening dungeons. Soulwalkers like Kamai can journey into other people's souls while they sleep. But no matter where Kamai visits, she sees the black door. It follows her into every soul, and she whas told her to never open it. When Kamai touches the door, it is warm and beating, like it has a pulse. When she puts her ear to it, she hears her own name whispered from the other side. And when tragedy strikes, Kamai does the unthinkable: she opens the door.
Black Sun by Rebecca Roanhorse (OV)
In Tova, the winter solstice is usually a time for celebration and renewal, but this year it coincides with a solar eclipse, a rare celestial event proscribed as an unbalancing of the world. Meanwhile, a ship launches from a distant city bound for Tova and set to arrive on the solstice. The captain of the ship, Xiala, can calm the waters around her as easily as she can warp a man's mind. Her ship carries only Serapio, harmless and cloaked in destiny. As Xiala well knows, when a man is described as harmless, he usually ends up being a villain.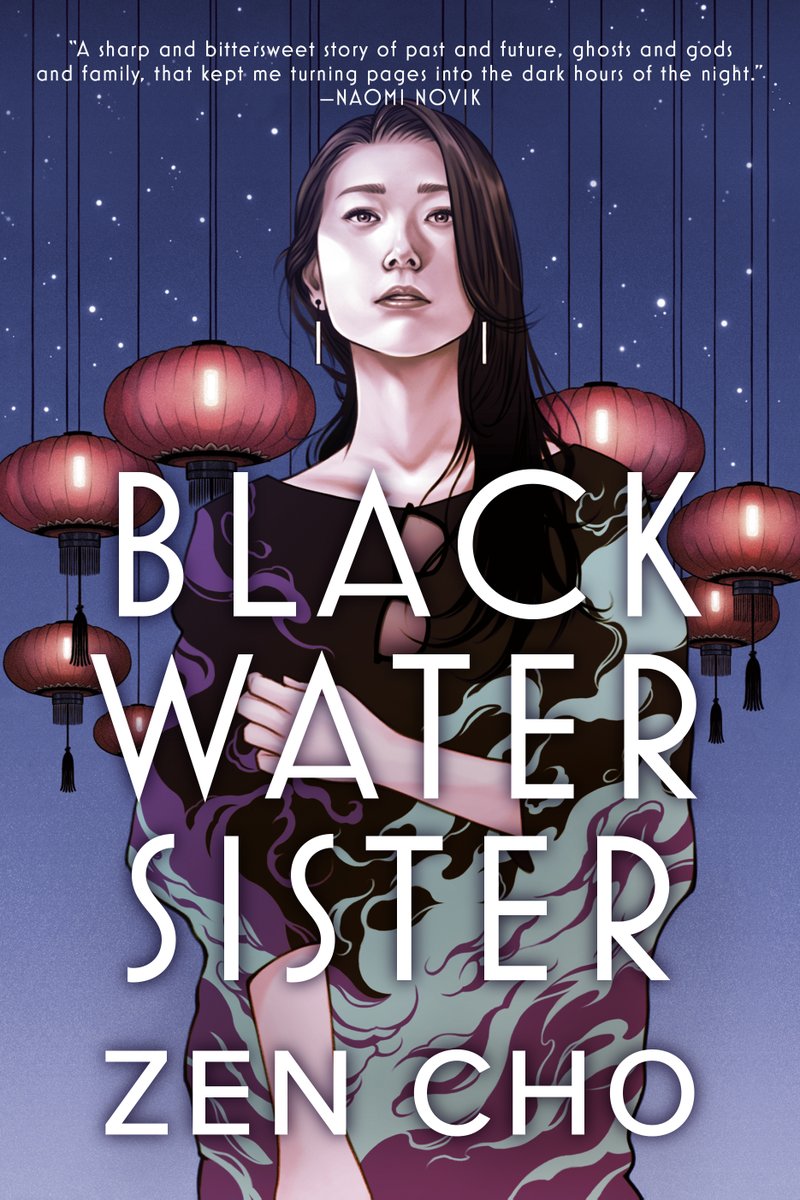 Black Water Sister by Zen Cho
Jessamyn Teoh is closeted, broke and moving back to Malaysia. So when she starts hearing voices, she chalks it up to stress. But there's only one voice in her head, and it claims to be the ghost of her estranged grandmother, Ah Ma. In life Ah Ma was a spirit medium, the avatar of a mysterious deity called the Black Water Sister. Now she's determined to settle a score against a gang boss who has offended the god – and she's decided Jess is going to help her do it.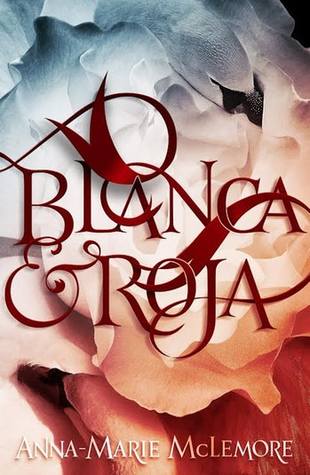 Blanca & Roja by Anna-Marie McLemore
The del Cisne girls have never just been sisters; they're also rivals. They know that, because of a spell, their family is bound to a bevy of swans deep in the woods. They know that, one day, the swans will pull them into a dangerous game that will leave one of them a girl, and trap the other in the body of a swan. But when two local boys become drawn into the game, the spell intertwines with the strange and unpredictable magic lacing the woods, and all four of their fates depend on facing truths that could either save or destroy them.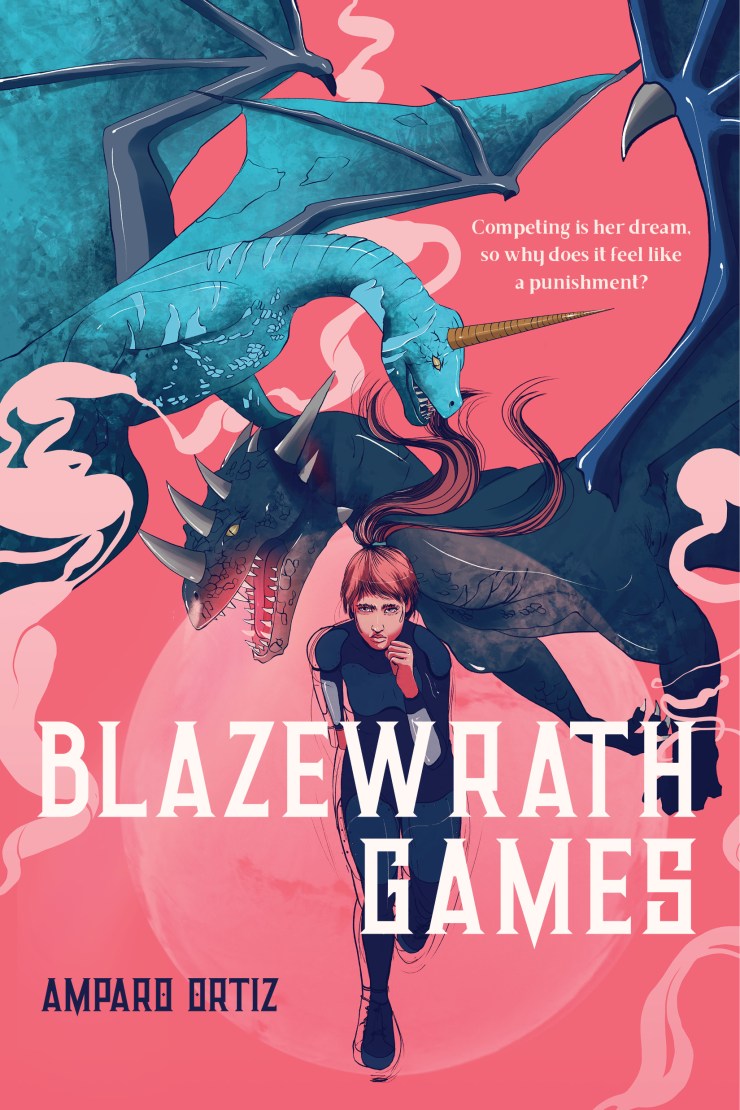 Blazewrath Games by Amparo Ortiz
Lana Torres has always preferred dragons to people. In a few weeks, sixteen countries will compete in the Blazewrath World Cup, a tournament where dragons and their riders fight for glory in a dangerous relay. Lana longs to represent her native Puerto Rico in their first ever World Cup appearance, and when their Runner is kicked off the team, she's given the chance. But when she discovers that a former Blazewrath superstar has teamed up with the Sire — a dragon who's cursed into human form — the safety of the Cup is jeopardized.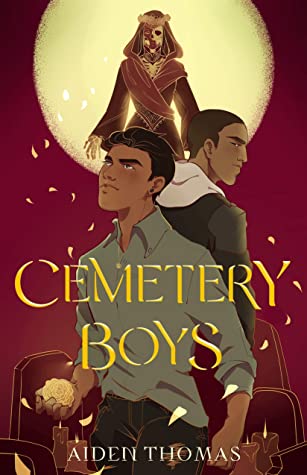 Cemetery Boys by Aiden Thomas (OV)
When his traditional Latinx family has problems accepting his gender, Yadriel becomes determined to prove himself a real brujo. With the help of his cousin he performs the ritual himself, and sets out to find the ghost of his murdered cousin and set it free. However, the ghost he summons is actually Julian, the school's resident bad boy, who is not about to go quietly into death. Left with no choice, Yadriel agrees to help him, so that they can both get what they want. But the longer the two spend together, the less Yadriel wants to let him leave.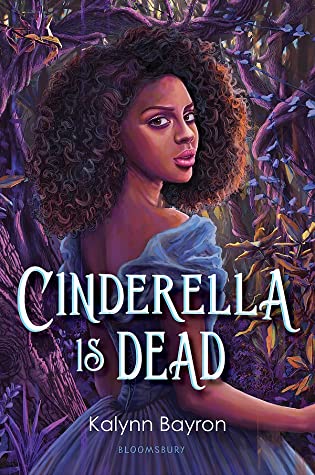 Cinderella Is Dead by Kalynn Bayron (OV)
200 years after Cinderella found her prince, girls are required to appear at a Ball, where the men of the kingdom select wives. The girls not chosen are never heard from again. Sophia would much rather marry her childhood best friend. At the ball, she makes the decision to flee and finds herself in Cinderella's mausoleum. There, she meets the last known descendant of Cinderella and her step sisters. Together they vow to bring down the king once and for all–and in the process, they learn that there's more to Cinderella's story …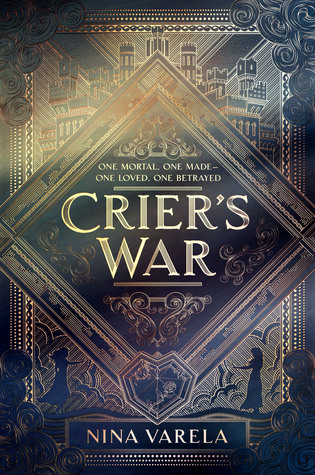 Crier's War by Nina Varela (OV)
After the War of Kinds, the Automae, took over and bent the human race to their will. Now, Ayla, a human servant rising the ranks at the House of the Sovereign, dreams of avenging the death of her famil by killing the Sovereign's daughter, Lady Crier, who was Made to be beautiful, to be flawless. And to take over the work of her father. Crier had been preparing to to inherit her father's rule over the land. But that was before she was betrothed, before she discovered her father isn't as benevolent as she thought and before she met Ayla.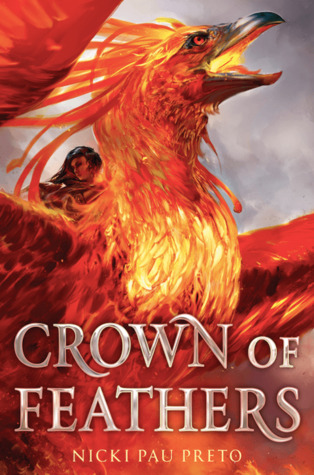 Crown of Feathers by Nicki Pau Preto
In a world ruled by fierce warrior queens, a grand empire was built upon the backs of Phoenix Riders — legendary heroes who soared through the sky on wings of fire. Veronyka dreams of becoming a Phoenix Rider. After a shocking betrayal from her sister, Veronyka strikes out alone to find the Riders — even if that means disguising herself as a boy to join their ranks. Just as Veronyka feels like she belongs, her sister turns up and reveals a tangled web of lies between them that will change everything.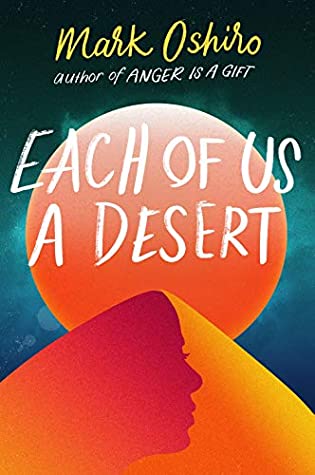 Each of Us a Desert by Mark Oshiro (OV)
Xochital is destined to wander the desert alone, speaking her village's stories into its winds. Her only companions are the blessed stars above and enimagic lines of poetry magically strewn across dusty dunes. Her one desire: to share her heart with a kindred spirit. One night, her wish is granted — in the form of Emilia, the cold and beautiful daughter of the town's murderous mayor. But when the two set out on a magical journey across the desert, they find their hearts could be a match.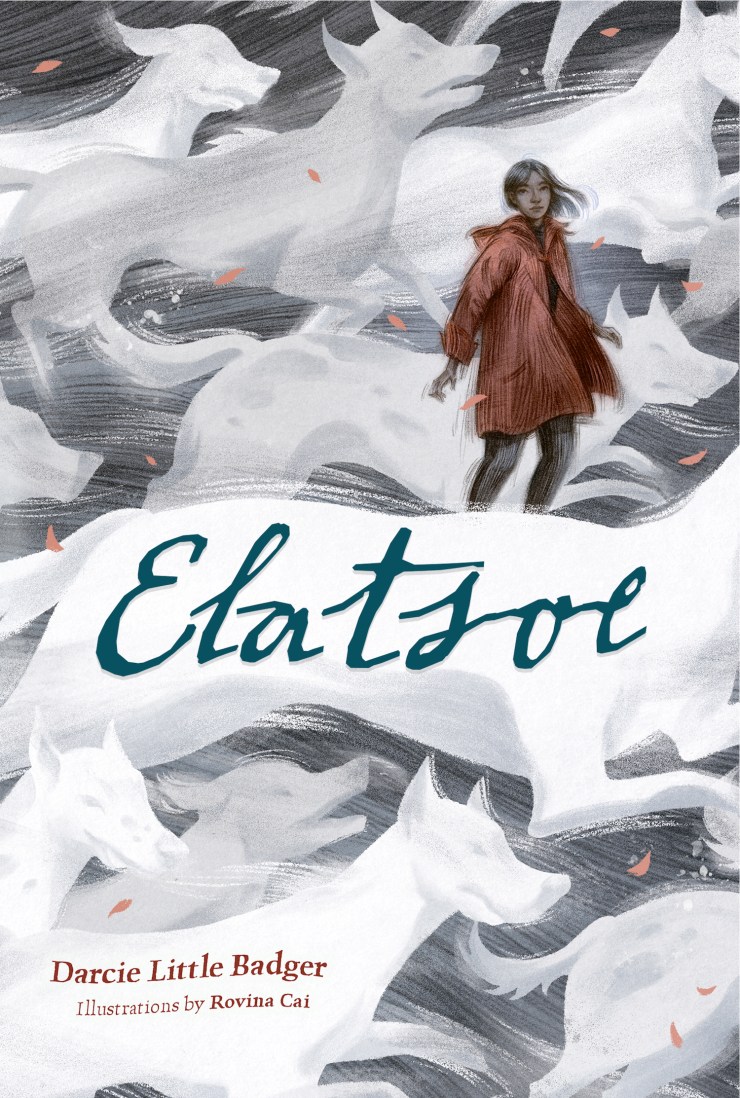 Elatsoe by Darcie Little Badger (OV)
Elatsoe lives in a slightly stranger America, that has been shaped dramatically by the magic, monsters, knowledge, and legends of its peoples, those Indigenous and those not. Some of these forces are charmingly everyday, but other forces are less charming and should never see the light of day. Elatsoe can raise the ghosts of dead animals. Her beloved cousin has just been murdered, in a town that wants no prying eyes. But she is going to do more than pry.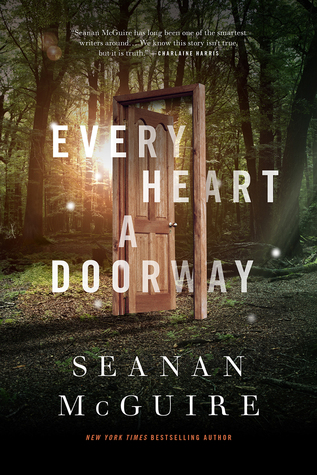 Every Heart a Doorway by Seanan McGuire (OV)
Children have always disappeared under the right conditions; slipping through the shadows under a bed or at the back of a wardrobe, tumbling down rabbit holes and into old wells, and emerging somewhere else. But magical lands have little need for used-up miracle children. Nancy tumbled once, but now she's back. The things she's experienced change a person. The children under Miss West's care understand all too well. And each of them is seeking a way back to their own fantasy world.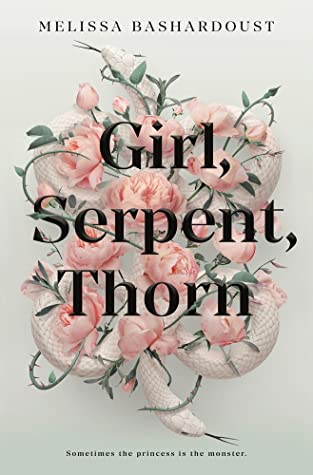 Girl, Serpent, Thorn by Melissa Bashardoust
There was and there was not a princess cursed to be poisonous to the touch. But for Soraya it's not just a story. As the day of her twin brother's wedding approaches, Soraya must decide if she's willing to step outside of the shadows for the first time. Below in the dungeon is a demon who holds knowledge that she craves, the answer to her freedom. And above is a young man who isn't afraid of her, whose eyes linger not with fear, but with an understanding of who she is beneath the poison.
Girls of Paper and Fire by Natasha Ngan (OV)
Each year, eight girls are chosen as Paper Girls to serve the king. It's the highest honor they could hope for – and the most demeaning. This year, there's a ninth. And instead of paper, she's made of fire. Lei is a member of the Paper caste, the lowest and most persecuted class of people. Over weeks of training in the opulent but oppressive palace, the girls learn the skills and charm that befit a king's consort. There, she does the unthinkable – she develops forbidden romance.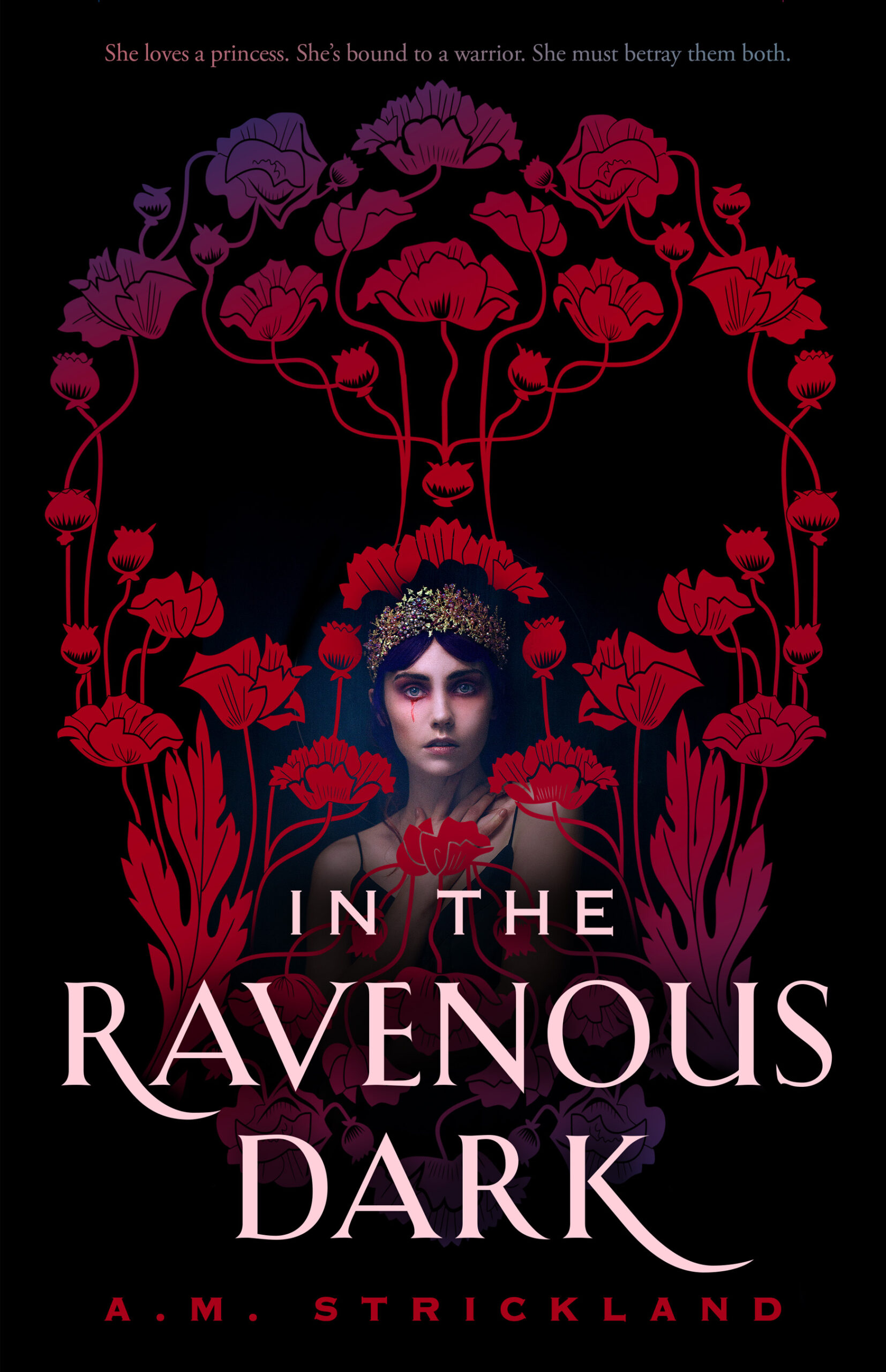 In the Ravenous Dark by A. M. Strickland (OV)
In Thanopolis, those gifted with magic are assigned undead spirits to guard and control them. Ever since Rovan's father died trying to keep her from this fate, she's hidden her magic. But when she accidentally reveals her powers, she's bound to a spirit and thrust into a world of palace intrigue and deception. Desperate to escape, Rovan finds herself falling for two people she can't fully trust: a rebellious princess and the handsome spirit with the ability to control Rovan, body and soul.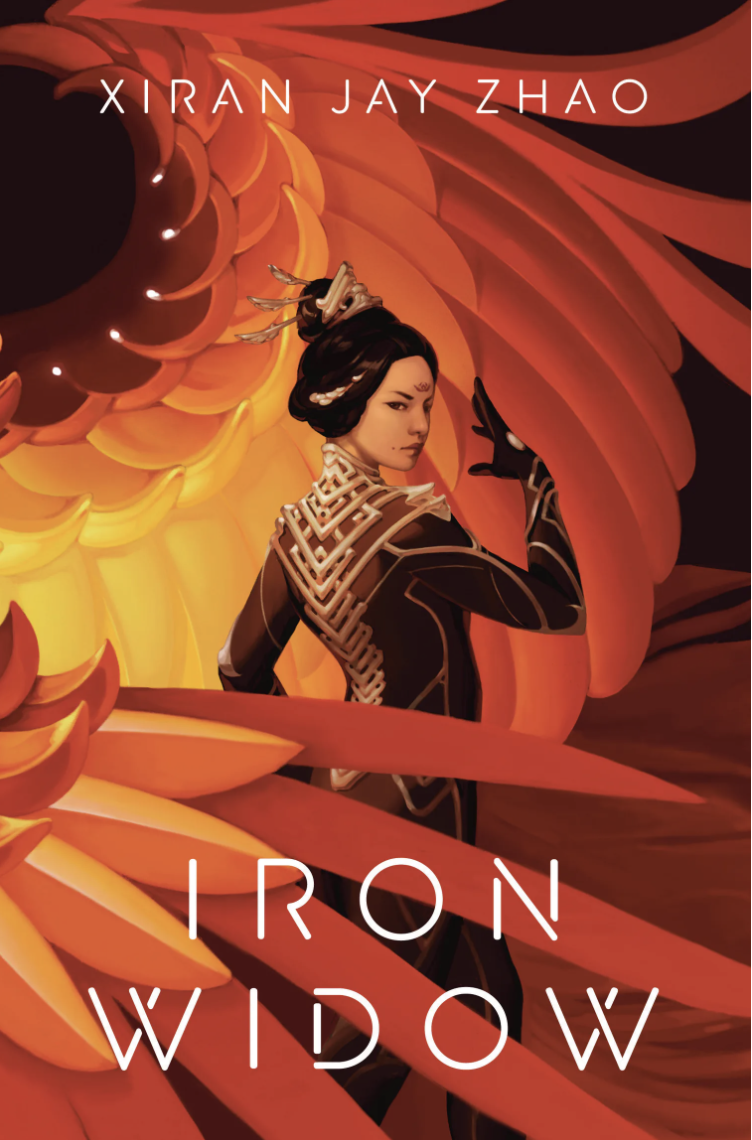 Iron Widow by Xiran Jay Zhao (OV)
The boys of Huaxia dream of pairing up with girls to pilot giant transforming robots that can battle the mecha aliens. When 18-year-old Zetian offers herself up as a concubine-pilot, it's to assassinate the ace male pilot responsible for her sister's death. She kills him through the psychic link between pilots and emerges from the cockpit unscathed. She is labeled an Iron Widow, a much-feared and much-silenced kind of female pilot who can sacrifice boys to power up Chrysalises instead.​
King of Scars by Leigh Bardugo
The dashing young king has always had a gift for the impossible. No one knows what he endured in his country's bloody civil war. Now, as enemies gather at his weakened borders, Nikolai must find a way to refill Ravka's coffers, forge new alliances, and stop a rising threat to the once-great Grisha Army. Yet with every day a dark magic within him grows stronger, threatening to destroy all he has built.​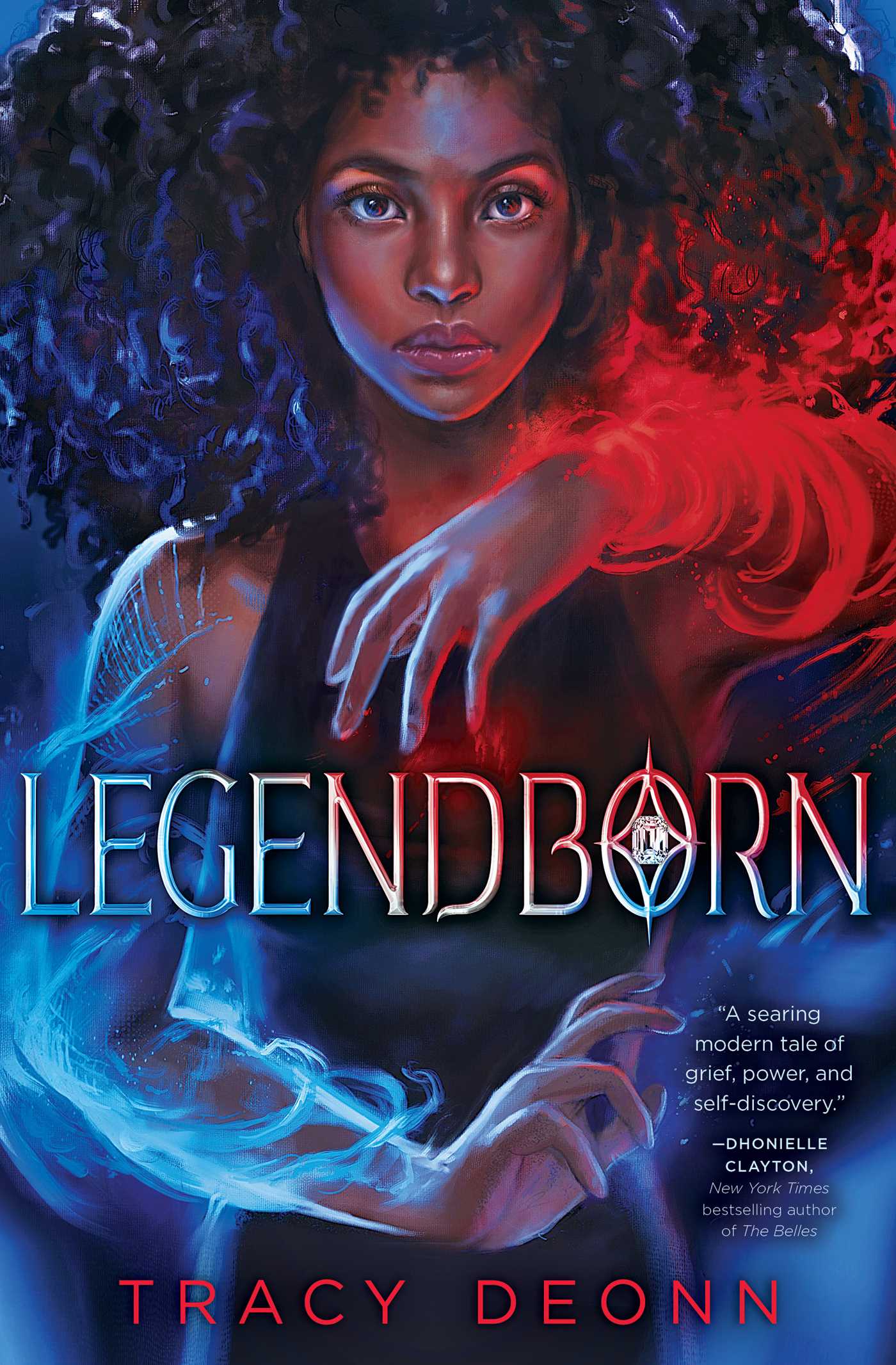 Legendborn by Tracy Deonn
After her mother dies in an accident, Bree Matthews wants nothing to do with her family memories or childhood home. A residential program for bright high schoolers seems like the perfect escape — until Bree witnesses a magical attack her very first night on campus and learns of a secret society of so called "Legendborn" students that hunt the creatures down. And a mysterious teenage mage who calls himself a "Merlin" and who attempts — and fails — to wipe Bree's memory of everything she saw.​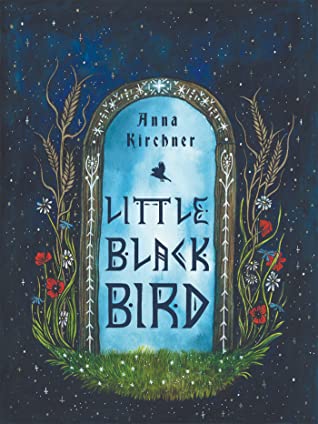 Little Black Bird by Anna Kirchner
Wiktoria has a secret: she has psychic powers. Her uncontrollable telekinesis hurts her and others, no matter how hard she tries to hold it back. All she wants to have is a peaceful, average life, but it's difficult when you've been cursed to destroy the magical world. Her carefully maintained facade of normality starts to unravel when she's hunted down by local sorcerers and their Guardian, and accused of unleashing banished demons back into the human realm.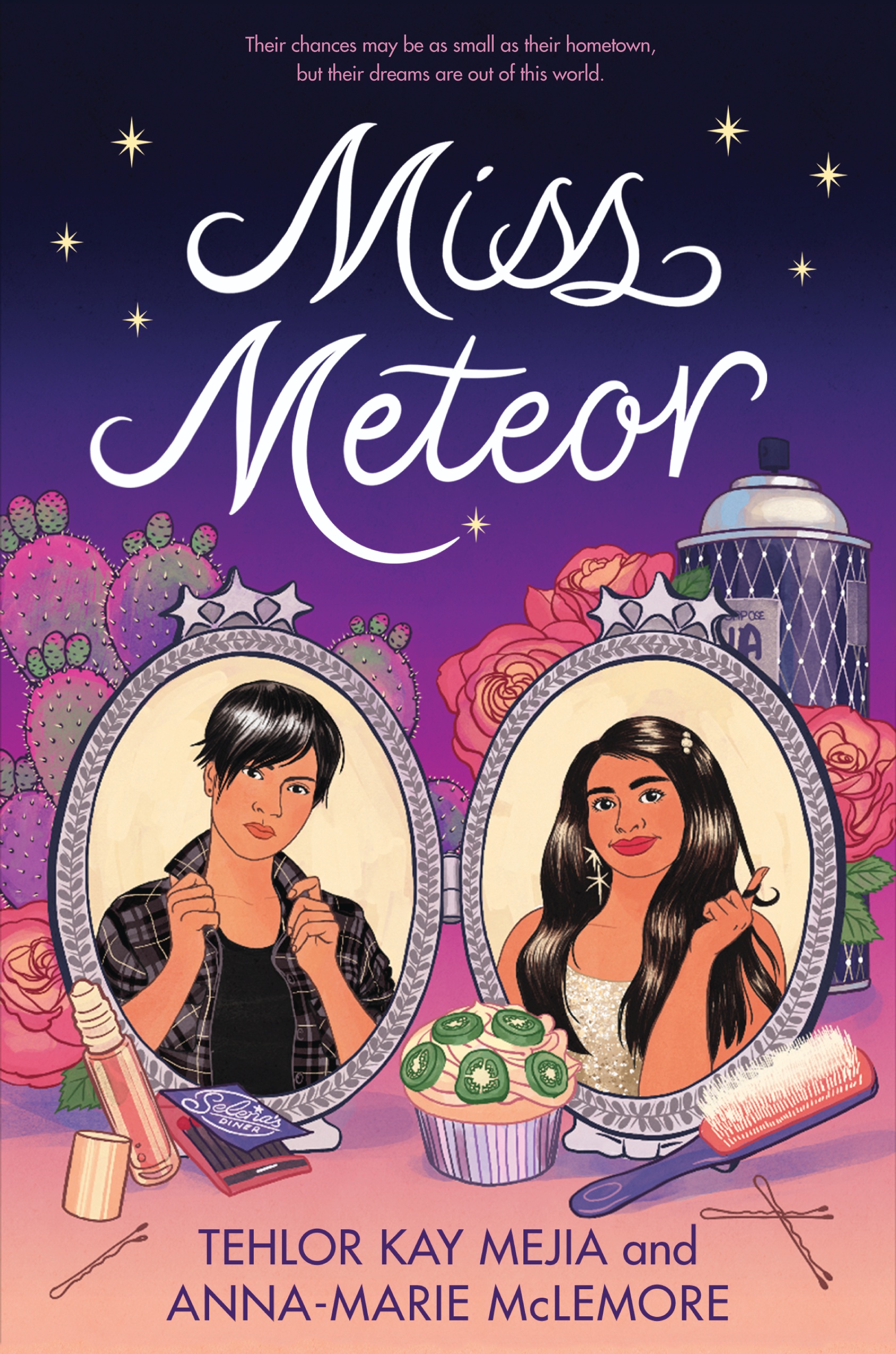 Miss Meteor by Tehlor Kay Mejia and Anna-Marie McLemore
There hasn't been a winner of the Miss Meteor beauty pageant who looks like Lita Perez or Chicky Quintanilla in all its history. But that's not the only reason Lita wants to enter the contest, or why her ex-best friend Chicky wants to help. The road to becoming Miss Meteor isn't about being perfect; it's about sharing who you are with the world — and loving the parts of yourself no one else understands.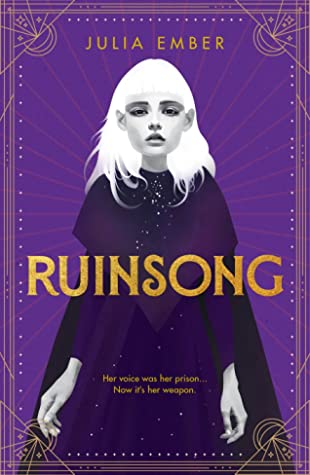 Ruinsong by Julia Ember (OV)
In a world where magic is sung, a powerful mage named Cadence has been forced to torture her country's disgraced nobility at her ruthless queen's bidding. But when she is reunited with her childhood friend, a noblewoman with ties to the underground rebellion, she must finally make a choice: Take a stand to free their country from oppression, or follow in the queen's footsteps and become a monster herself.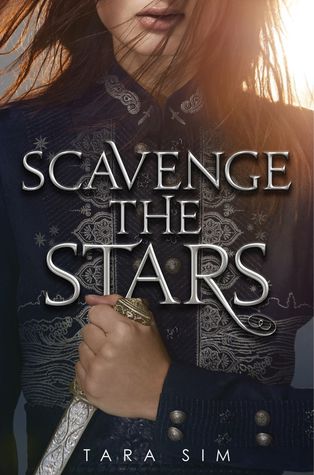 Scavenge the Stars by Tara Sim
When Amaya rescues a mysterious stranger from drowning, she fears her rash actions have earned her a longer sentence on the debtor ship where she's been held captive for years. Instead, the man she saved offers her unimaginable riches and a new identity, setting Amaya on a perilous course through the coastal city-state of Moray, where old-world opulence and desperate gamblers collide. Amaya wants one thing: revenge against the man who ruined her family and stole the life she once had.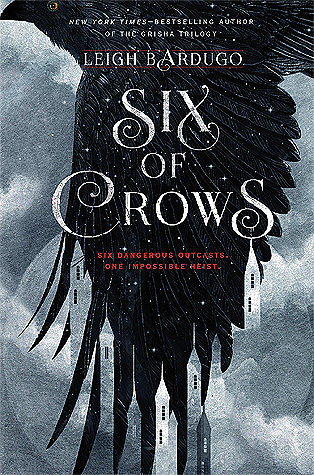 Six of Crows by Leigh Bardugo
Ketterdam: a bustling hub of international trade where anything can be had for the right price — and no one knows that better than criminal prodigy Kaz Brekker. Kaz is offered a chance at a deadly heist that could make him rich beyond his wildest dreams. But he can't pull it off alone. Kaz's crew is the only thing that might stand between the world and destruction — if they don't kill each other first.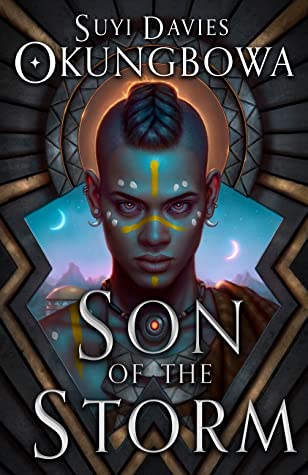 Son of the Storm by Suyi Davies Okungbowa
In the ancient city of Bassa, Danso is a clever scholar on the cusp of achieving greatness — only he doesn't want it. Instead, he prefers to chase forbidden stories about what lies outside the city walls. The Bassai elite claim there is nothing of interest. The city's immigrants are sworn to secrecy. But when Danso stumbles across a warrior wielding magic that shouldn't exist, he's put on a collision course with Bassa's darkest secrets.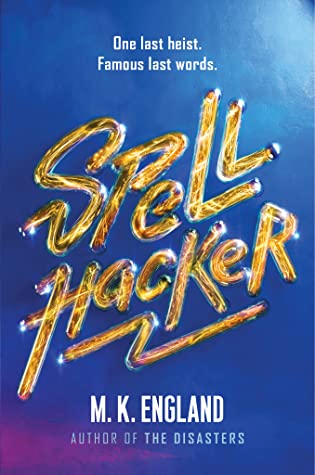 Spellhacker by M.K. England
In Kyrkarta, magic was once a freely available natural resource. Then an earthquake released a magical plague, killing thousands and opening the door for a greedy corporation to make magic a commodity that's tightly controlled and outrageously expensive. Which is why Diz and her three best friends run a highly lucrative, highly illegal magic siphoning gig on the side. Their next job is supposed to be their last heist ever.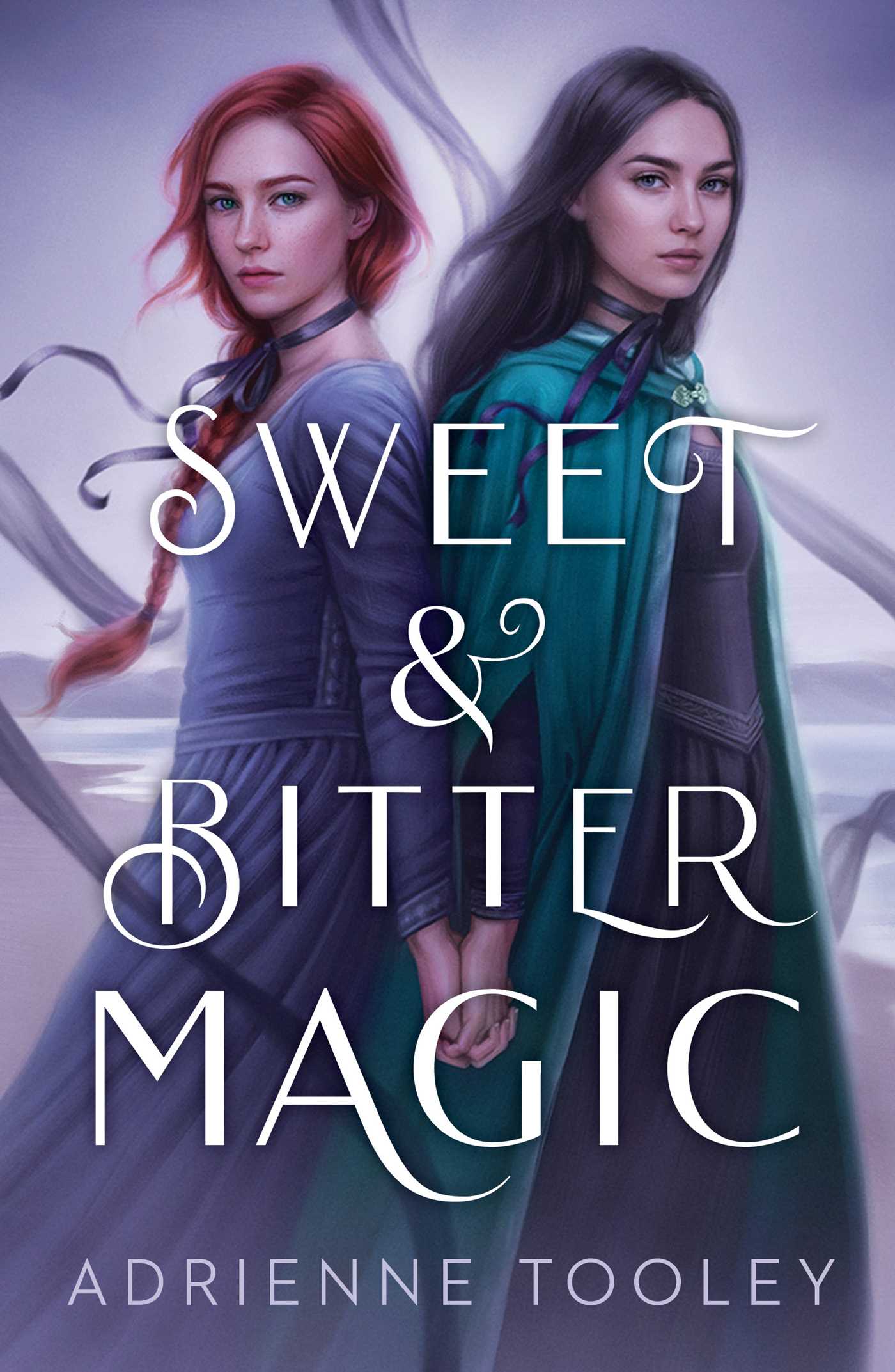 Sweet & Bitter Magic by Adrienne Tooley (OV)
Tamsin is the most powerful witch of her generation. But after committing the worst magical sin, she's exiled and cursed with the inability to love. The only way she can get those feelings back is to steal love from others. Wren is a source — a rare kind of person who is made of magic, despite being unable to use it herself. Sources are required to train as soon as they discover their abilities, but Wren has spent her life hiding her secret.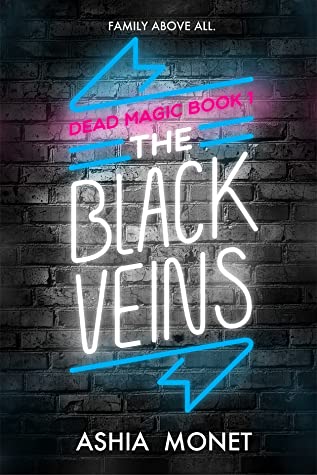 The Black Veins by Ashia Monet (OV)
Blythe is one of seven Guardians: magicians powerful enough to cause worldwide panic with a snap of their fingers. But Blythe spends her days at her family's coffee shop, so why should she care about having apocalyptic abilities? She's given a reason when magician anarchists crash into said coffee shop and kidnap her family. Heartbroken but determined, Blythe knows she can't save them alone. A war is brewing between two magician governments and tensions are too high.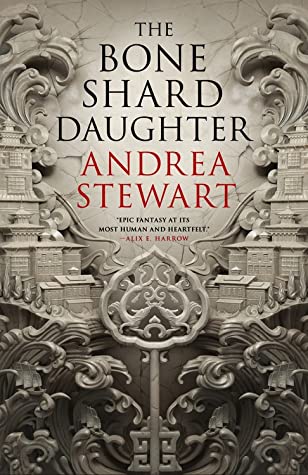 The Bone Shard Daughter by Andrea Stewart
The emperor's reign has lasted for decades, his mastery of bone shard magic powering the animal-like constructs that maintain law and order. But now his rule is failing, and revolution is sweeping across the Empire's many islands. Lin is the emperor's daughter and spends her days trapped in a palace of locked doors and dark secrets. When her father refuses to recognise her as heir to the throne, she vows to prove her worth by mastering the forbidden art of bone shard magic.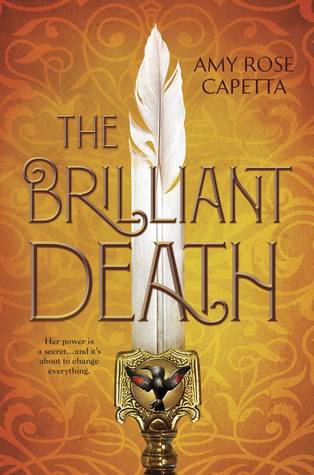 The Brilliant Death by A. R. Capetta
For Teodora DiSangro, a mafia don's daughter, family is fate. All her life, Teodora has hidden the fact that she secretly turns her family's enemies into music boxes, mirrors, and other decorative objects. After all, everyone in Vinalia knows that stregas are figures out of fairytales. Nobody believes they're real. Then the Capo sends poisoned letters to the heads of the Five Families that have long controlled Vinalia. To save her family, Teo must travel to the capital not merely disguised as a boy, but transformed into one.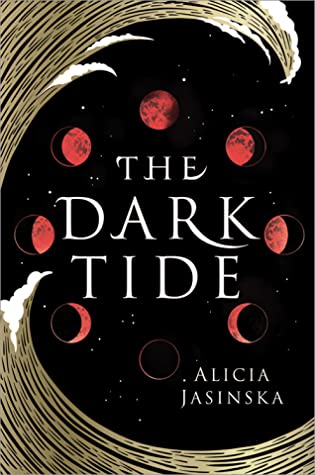 The Dark Tide by Alicia Jasinska (OV)
Every year on St. Walpurga's Eve, Caldella's Witch Queen lures a boy back to her palace. An innocent life to be sacrificed on the full moon to keep the island city from sinking. Lina Kirk is convinced her brother is going to be taken this year. To save him, she enlists the help of Thomas Lin, the boy she secretly loves, and the only person to ever escape from the palace. But they draw the queen's attention, and Thomas is chosen as the sacrifice.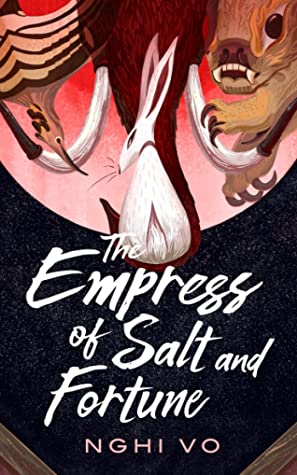 The Empress of Salt and Fortune by Nghi Vo (OV)
A young royal is sent for a political marriage in an empire reminiscent of imperial China. Her brothers are dead, her armies and their war mammoths long defeated and caged behind their borders. Alone and sometimes reviled, she must choose her allies carefully. Rabbit, a handmaiden, sold by her parents to the palace for the lack of five baskets of dye, befriends the emperor's lonely new wife and gets more than she bargained for.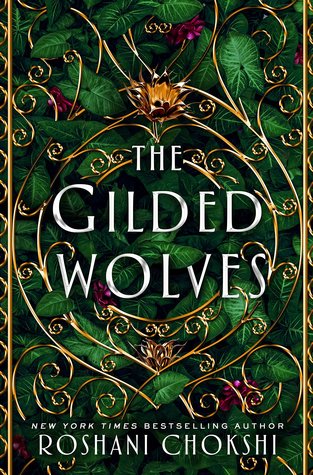 The Gilded Wolves by Roshani Chokshi
It's 1889. Paris is on the cusp of industry and power, and the Exposition Universelle has breathed new life into the streets and dredged up ancient secrets. Here, no one keeps tabs on dark truths better than treasure-hunter and wealthy hotelier Séverin Montagnet-Alarie. When the elite, ever-powerful Order of Babel coerces him to help them on a mission, Séverin is offered a treasure that he never imagined: his true inheritance.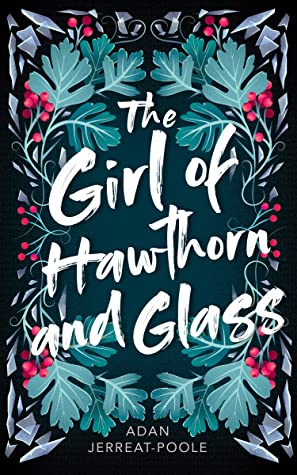 The Girl of Hawthorn and Glass by Adan Jerreat-Poole (OV)
Eli isn't just a teenage girl — she's a made-thing the witches created to hunt down ghosts in the human world. Trained to kill with her seven magical blades, Eli is a flawless machine, a deadly assassin. But when an assignment goes wrong, Eli starts to question everything she was taught about both worlds, the Coven, and her tyrannical witch-mother.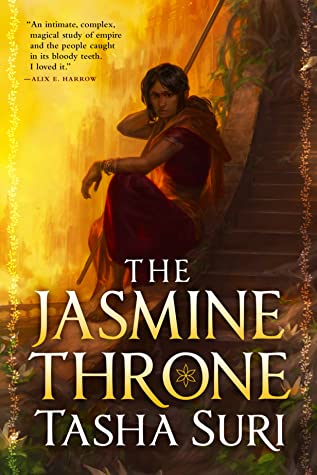 The Jasmine Throne by Tasha Suri (OV)
Imprisoned by her dictator brother, Malini spends her days in isolation in the Hirana: an ancient temple that was once the source of the powerful, magical deathless waters — but is now little more than a decaying ruin. Priya is a maidservant, one among several who make the treacherous journey to the top of the Hirana every night to clean Malini's chambers. She is happy to be an anonymous drudge, so long as it keeps anyone from guessing the dangerous secret she hides. Together, they will change the fate of an empire.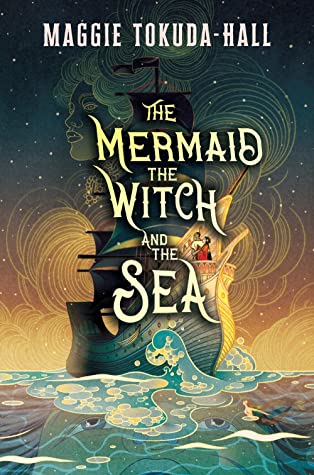 The Mermaid, the Witch and the Sea by Maggie Tokuda-Hall
Aboard the pirate ship Dove, Flora takes on the identity of Florian to earn the respect and protection of the crew. For Flora, the brutal life of a pirate is about survival. But on this voyage, as the pirates prepare to sell their unsuspecting passengers into slavery, Flora is drawn to the Lady Evelyn Hasegawa, who is en route to a dreaded arranged marriage with her own casket in tow. Flora doesn't expect to be taken under Evelyn's wing, and Evelyn doesn't expect to find such a deep bond with the pirate.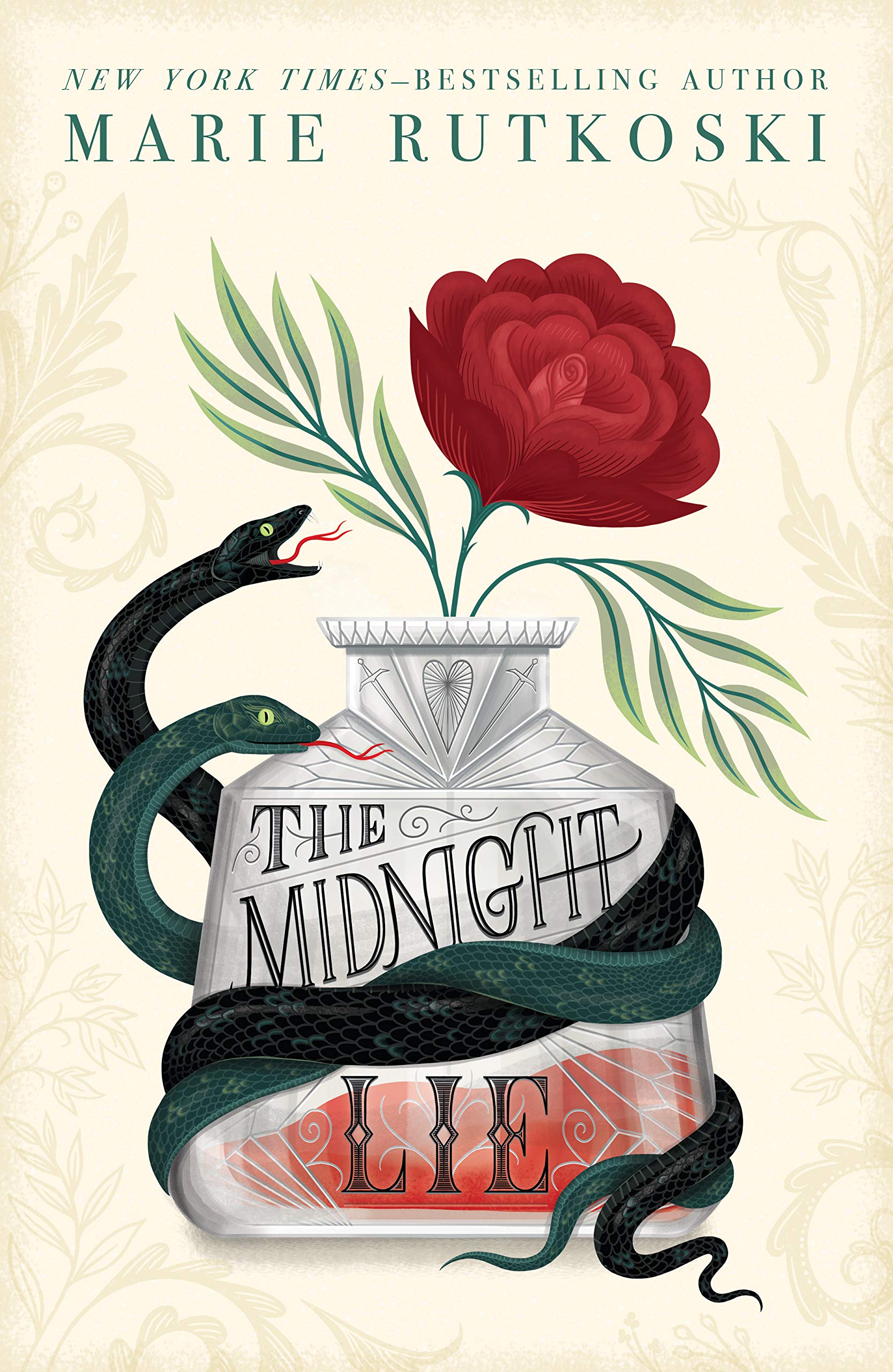 The Midnight Lie by Marie Rutkoski (OV)
Where Nirrim lives, crime abounds, a harsh tribunal rules, and society's pleasures are reserved for the High Kith. Life in the Ward is grim and punishing. You either follow the rules, or pay a tithe and suffer the consequences. Nirrim keeps her head down and a dangerous secret close to her chest. But then she encounters Sid, a rakish traveler from far away who whispers rumors that the High Caste possesses magic.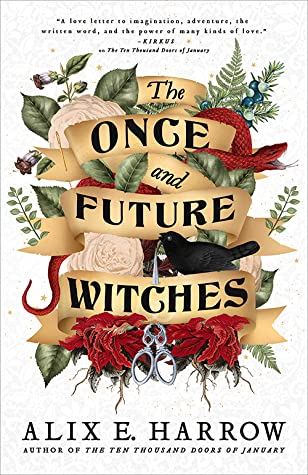 The Once and Future Witches by Alix E. Harrow
In 1893, there's no such thing as witches. There used to be, in the wild, dark days before the burnings began, but now witching is nothing but tidy charms and nursery rhymes. If the modern woman wants any measure of power, she must find it at the ballot box. But when the Eastwood sisters join the suffragists of New Salem, they begin to pursue the forgotten words and ways that might turn the women's movement into the witch's movement.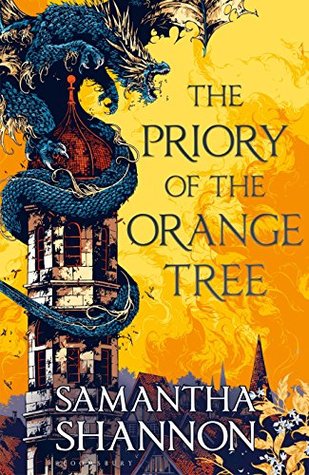 The Priory of the Orange Tree by Samantha Shannon (OV)
The House of Berethnet has ruled Inys for a thousand years. Still unwed, Queen Sabran the Ninth must conceive a daughter to protect her realm from destruction – but assassins are getting closer to her door. Ead Duryan is an outsider at court. Though she has risen to the position of lady-in-waiting, she is loyal to a hidden society of mages. Ead keeps a watchful eye on Sabran, secretly protecting her with forbidden magic.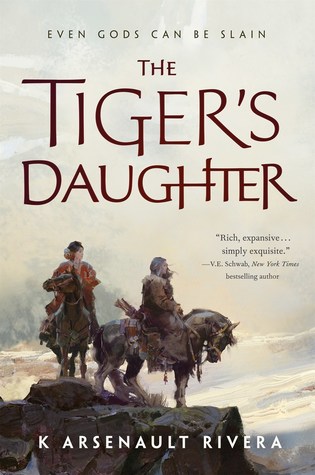 The Tiger's Daughter by K. Arsenault Rivera
The Hokkaran empire has conquered every land within their bold reach ― but failed to notice a lurking darkness festering within the people. Now, their border walls begin to crumble, and villages fall to demons swarming out of the forests. Away on the silver steppes, the remaining tribes of nomadic Qorin retreat and protect their own, having bartered a treaty with the empire, exchanging inheritance through the dynasties. It is up to two young warriors to save the world from the encroaching demons.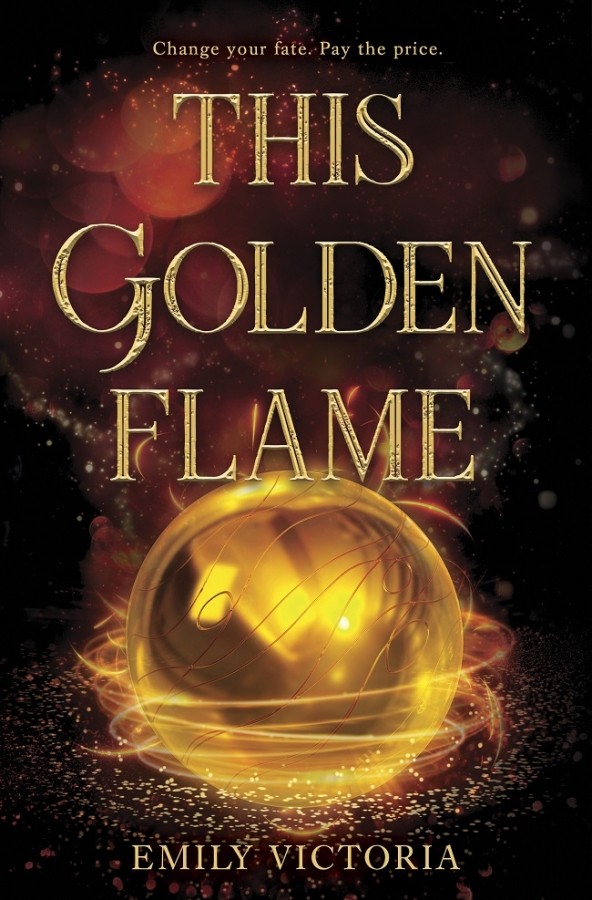 This Golden Flame by Emily Victoria
Orphaned and forced to serve her country's ruling group of scribes, Karis wants nothing more than to find her brother, long ago shipped away. But family bonds don't matter to the Scriptorium, whose sole focus is unlocking the magic of an ancient automaton army. In her search for her brother, Karis does the seemingly impossible — she awakens a hidden automaton. Intelligent, with a conscience of his own, Alix has no idea why he was made.
Dystopia, Science Fiction & Space Opera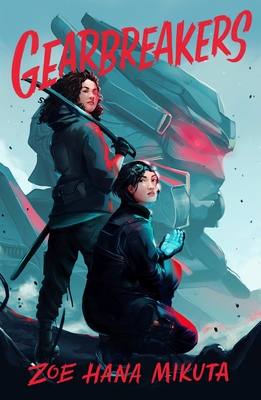 Gearbreakers by Zoe Hana Mikuta
The shadow of Godolia's tyrannical rule is spreading, aided by their giant mechanized weapons known as Windups. War and oppression are everyday constants for the people of the Badlands. Eris Shindanai is a Gearbreaker, a brash young rebel who specializes in taking down Windups from the inside. When one of her missions goes awry and she finds herself in a Godolia prison, Eris meets Sona Steelcrest, a cybernetically enhanced Windup pilot. At first Eris sees Sona as her mortal enemy, but Sona has a secret …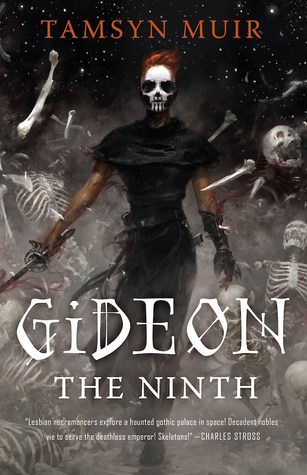 Gideon the Ninth by Tamsyn Muir (OV)
Brought up by unfriendly, ossifying nuns, ancient retainers, and countless skeletons, Gideon is ready to abandon a life of servitude and an afterlife as a reanimated corpse. She packs up her things and prepares to launch her daring escape. But her childhood nemesis won't set her free without a service. Harrowhark Nonagesimus, Reverend Daughter of the Ninth House and bone witch extraordinaire, has been summoned into action. The Emperor has invited the heirs to each of his loyal Houses to a deadly trial of wits and skill.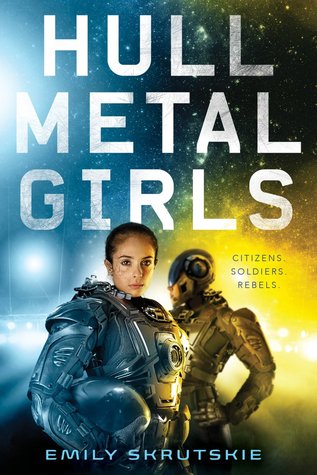 Hullmetal Girls by Emily Skrutskie
When Aisha's brother contracts a plague, she knows her salary isn't enough to fund his treatment. She volunteers to become a Scela, a mechanically enhanced soldier. If Aisha can survive the modifications and earn a place in the Scela ranks, she may be able to save her brother. Key awakens in a Scela body with only hazy memories of her life before. She knows she's from the privileged end of the Fleet, but she has no other recollection. If she can make it through the training, she might have a shot at recovering her missing past.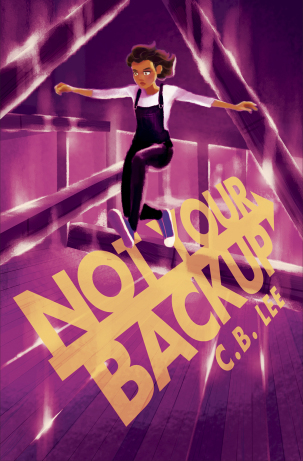 Not Your Backup by C.B. Lee (OV)
Emma Robledo has a few more responsibilities than the usual high school senior, but then again, she and her friends have left school to lead a Resistance movement against a corrupt Heroes League of Heroes. Emma is the only member of a team without powers, and she isn't always taken seriously. As the Resistance moves to challenge the League, Emma realizes that her place is at the front.
Note: This is the third book in the Sidekick Squad Series.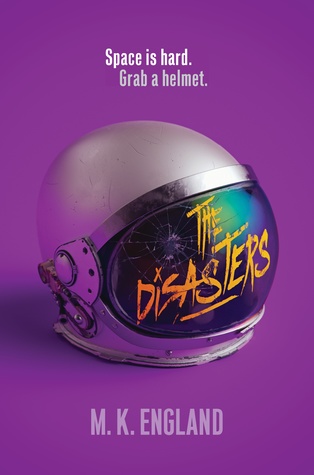 The Disasters by M.K. England
Nax Hall has a history of making poor life choices. So it's not a surprise when he's kicked out of the elite Ellis Station Academy in less than a day. But Nax's one-way trip back to Earth is cut short when a terrorist group attacks. Nax and three other washouts escape but they're also the sole witnesses to the biggest crime in the history of space colonization. And the perfect scapegoats. On the run and framed for atrocities they didn't commit, Nax and his fellow failures execute a dangerous heist to spread the truth about what happened.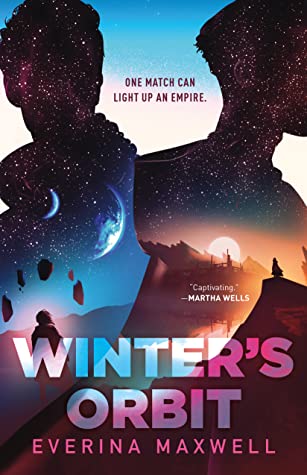 Winter's Orbit by Everina Maxwell
While the Iskat Empire has long dominated the system, several planets, including Thea, have begun to chafe. When tragedy befalls Imperial Prince Taam, his widower, Jainan, is rushed into an arranged marriage with Taam's cousin, the disreputable Kiem, in a bid to keep the hostilities under control. But when it comes to light that the Prince's death may not have been an accident, and that Jainan himself may be a suspect, the pair must overcome their misgivings and learn to trust one another, all while dealing with their growing feelings.
Mystery, Horror & Thriller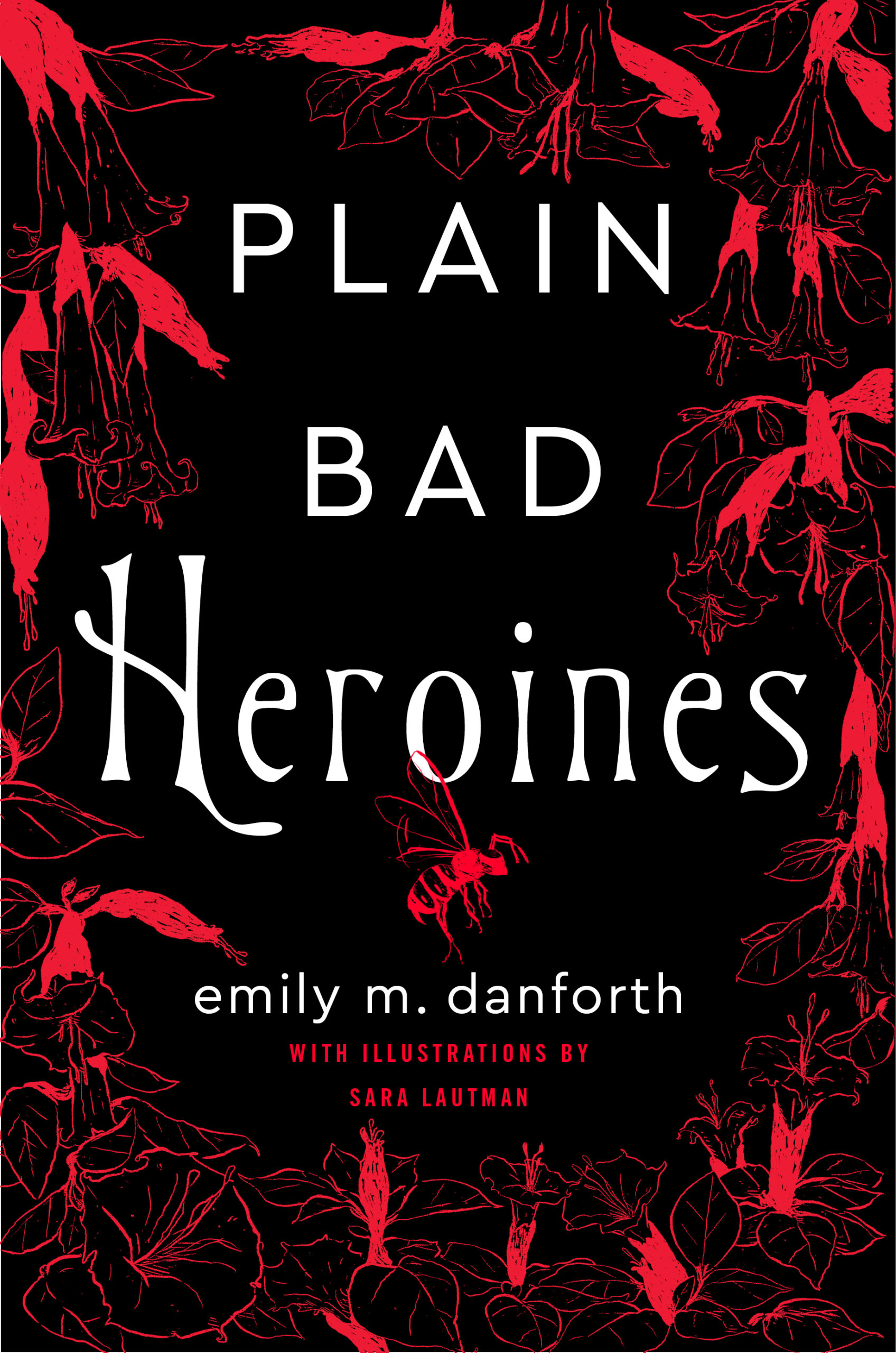 Plain Bad Heroines by Emily M. Danforth (OV)
Flo and Clara are obsessed with each other and a daring young writer named Mary MacLane. To show their devotion, the girls establish their own private club and call it The Plain Bad Heroine Society. They meet in secret in a nearby apple orchard, the ultimate setting of their macabre deaths. Over a century later, the now abandoned and crumbling Brookhants is back in the news when wunderkind writer, Merritt Emmons, publishes a book celebrating the queer, feminist history surrounding the "haunted and cursed" institution.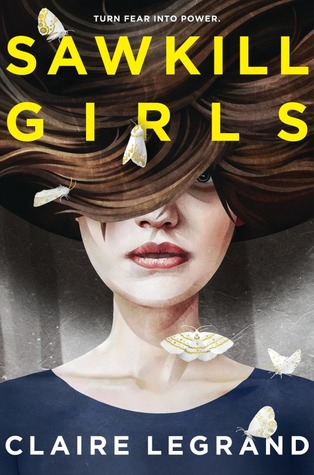 Sawkill Girls by Claire Legrand (OV)
Who are the Sawkill Girls? Marion: the new girl. Awkward and plain, steady and dependable. Weighed down by tragedy and hungry for love she might never find. Zoey: the pariah. Luckless and lonely, hurting but hiding it. Aching with grief and dreaming of vanished girls. Val: the queen bee. Gorgeous and privileged, ruthless and regal. Words like silk and eyes like knives, a heart made of secrets and a mouth full of lies. Their stories come together on the island of Sawkill Rock, where girls have been disappearing for decades.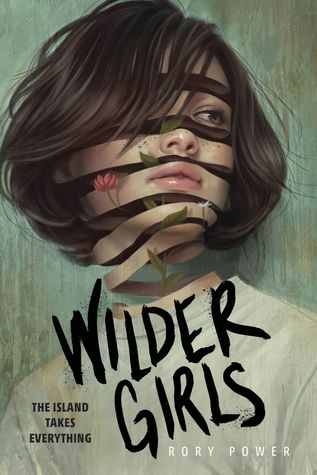 Wilder Girls by Rory Power (OV)
It's been one and a half years since the Raxter School for Girls was put under quarantine. It started slow. First the teachers died one by one. Then it began to infect the students, turning their bodies strange and foreign. Now, cut off from the rest of the world on their island home, the girls don't dare wander outside the school's fence, where the Tox has made the woods wild and dangerous. They wait for the cure they were promised as the Tox seeps into everything. But when Byatt goes missing, Hetty will do anything to find her.
Historical Fiction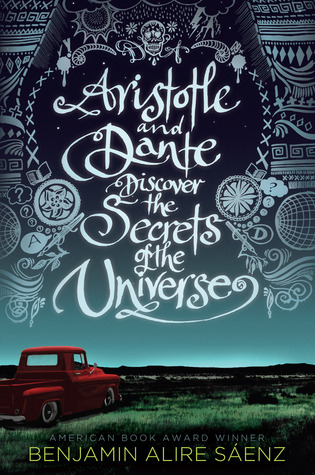 Aristotle and Dante Discover the Secrets of the Universe by Benjamin Alire Sáenz (OV)
Aristotle is an angry teen with a brother in prison. Dante is a know-it-all who has an unusual way of looking at the world. When the two meet, they seem to have nothing in common. But as the loners start spending time together, they discover that they share a special friendship – the kind that changes lives and lasts a lifetime. Ari and Dante will learn the most important truths about themselves and the kind of people they want to be.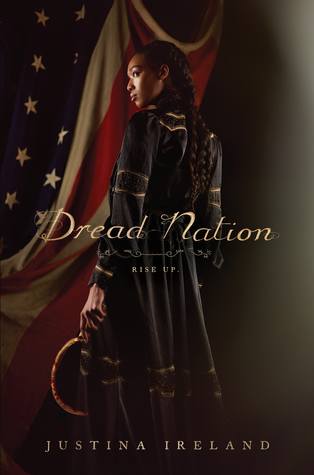 Dread Nation by Justina Ireland
Jane McKeene was born two days before the dead began to walk the battlefields of Gettysburg and Chancellorsville — derailing the War Between the States and changing America forever. In this new nation, safety for all depends on the work of a few, and laws like the Native and Negro Reeducation Act require certain children attend combat schools to learn to put down the dead. But there are also opportunities — and Jane is studying to become an Attendant, trained in both weaponry and etiquette to protect the well-to-do.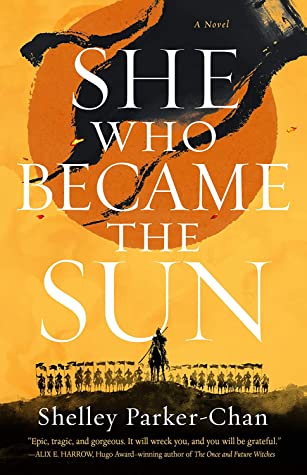 She Who Became the Sun by Shelley Parker-Chan
In 1345, China lies under harsh Mongol rule. For the starving peasants of the Central Plains, greatness is something found only in stories. When the Zhu family's eighth-born son, Zhu Chongba, is given a fate of greatness, everyone is mystified as to how it will come to pass. The fate of nothingness received by the family's clever and capable second daughter, on the other hand, is only as expected.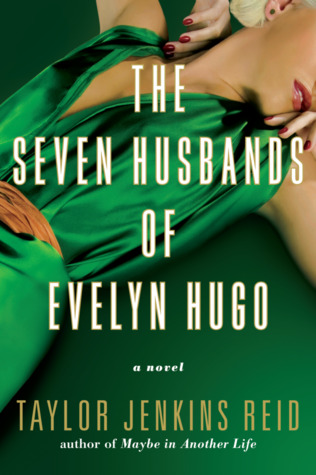 The Seven Husbands of Evelyn Hugo by Taylor Jenkins Reid
Hollywood movie icon Evelyn Hugo is finally ready to tell the truth about her glamorous and scandalous life. But when she chooses unknown magazine reporter Monique Grant for the job, no one is more astounded than Monique herself, as she is not exactly on top of the world. Her husband has left her, and her professional life is going nowhere. Regardless of why Evelyn has selected her to write her biography, Monique is determined to use this opportunity to jumpstart her career, but begins to feel a very real connection to Evelyn.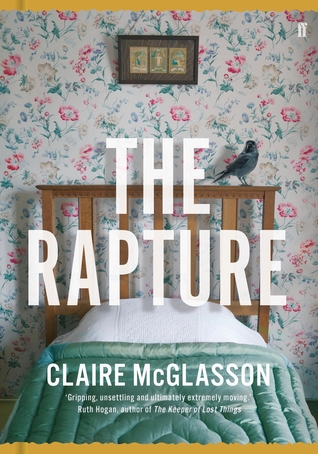 The Rapture by Claire McGlasson
Dilys is a devoted member of a terribly English cult: The Panacea Society, populated almost entirely by virtuous single ladies. When she strikes up a friendship with Grace, God finally seems to be smiling upon her. The friends become closer as they wait for the Lord to return to their Garden of Eden, and Dilys feels she has found the right path at last. But Dilys is wary of their leader's zealotry and suspicious of those who would seem to influence her for their own ends. As her feelings for Grace bud and bloom, the Society begins to crumble.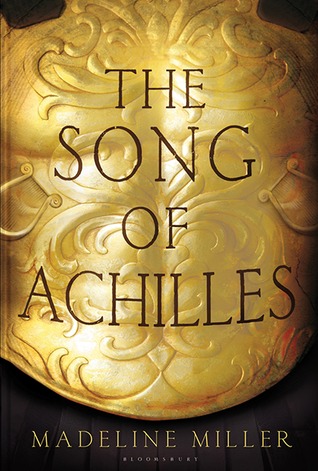 The Song of Achilles by Madeline Miller
Patroclus, an awkward young prince, has been exiled to the court of King Peleus and his perfect son Achilles. By all rights their paths should never cross, but Achilles takes the shamed prince as his friend, and as they grow into young men, their bond blossoms into something deeper – despite the displeasure of Achilles' mother Thetis, a cruel sea goddess. But then word comes that Helen of Sparta has been kidnapped. Torn between love and fear for his friend, Patroclus journeys with Achilles to Troy.
Poetry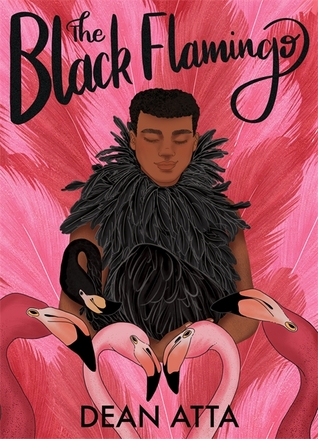 The Black Flamingo by Dean Atta (OV)
A boy comes to terms with his identity as a mixed-race gay teen – then at university he finds his wings as a drag artist, The Black Flamingo. A bold story about the power of embracing your uniqueness. Sometimes, we need to take charge, to stand up wearing pink feathers – to show ourselves to the world in bold colour.
Graphic Novel & Comic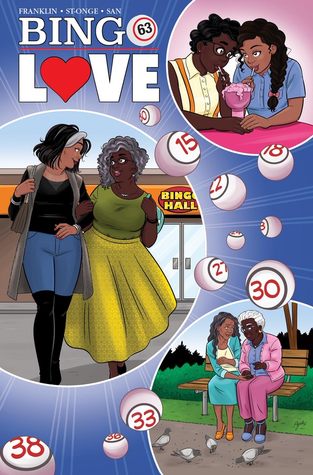 Bingo Love by Tee Franklin (OV)
A chance meeting at church bingo in 1963 brings Hazel Johnson and Mari McCray together. Through their formative years, these two women develop feelings for each other and finally profess their love for one another. Forced apart by their families and society, Hazel and Mari both married young men and had families. Decades later, now in their mid 60's, Hazel and Mari are reunited again at a bingo hall. Realizing their love for each other is still alive, what these grandmothers do next takes absolute strength and courage.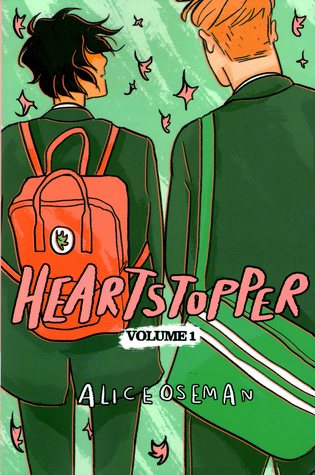 Heartstopper by Alice Oseman (OV)
Charlie Spring is in Year 10 at Truham Grammar School for Boys. The past year hasn't been too great, but at least he's not being bullied anymore. Nick Nelson is in Year 11 and on the school rugby team. He's heard a little about Charlie – the kid who was outed last year and bullied for a few months – but he's never had the opportunity to talk to him. They quickly become friends, and soon Charlie is falling hard for Nick, even though he doesn't think he has a chance.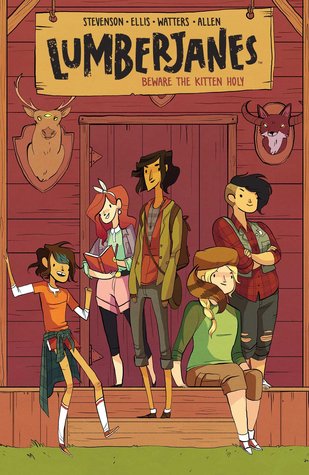 Lumberjanes by Noelle Stevenson (OV)
At Miss Qiunzilla Thiskwin Penniquiqul Thistle Crumpet's camp for hard-core lady-types, things are not what they seem. Three-eyed foxes. Secret caves. Anagrams. Luckily, Jo, April, Mal, Molly, and Ripley are five rad, butt-kicking best pals determined to have an awesome summer together… And they're not gonna let a magical quest or an array of supernatural critters get in their way! The mystery keeps getting bigger, and it all begins here.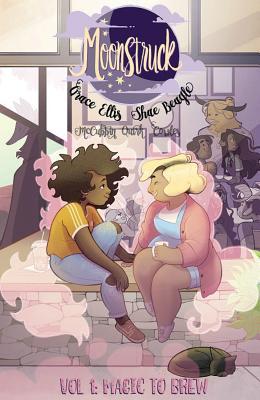 Magic to Brew by Grace Ellis and Shae Beagle (OV)
Werewolf barista Julie and her new girlfriend go on a date to a close-up magic show, but all heck breaks loose when the magician casts a horrible spell on their friend Chet. Now it's up to the team of mythical pals to stop the illicit illusionist before it's too late.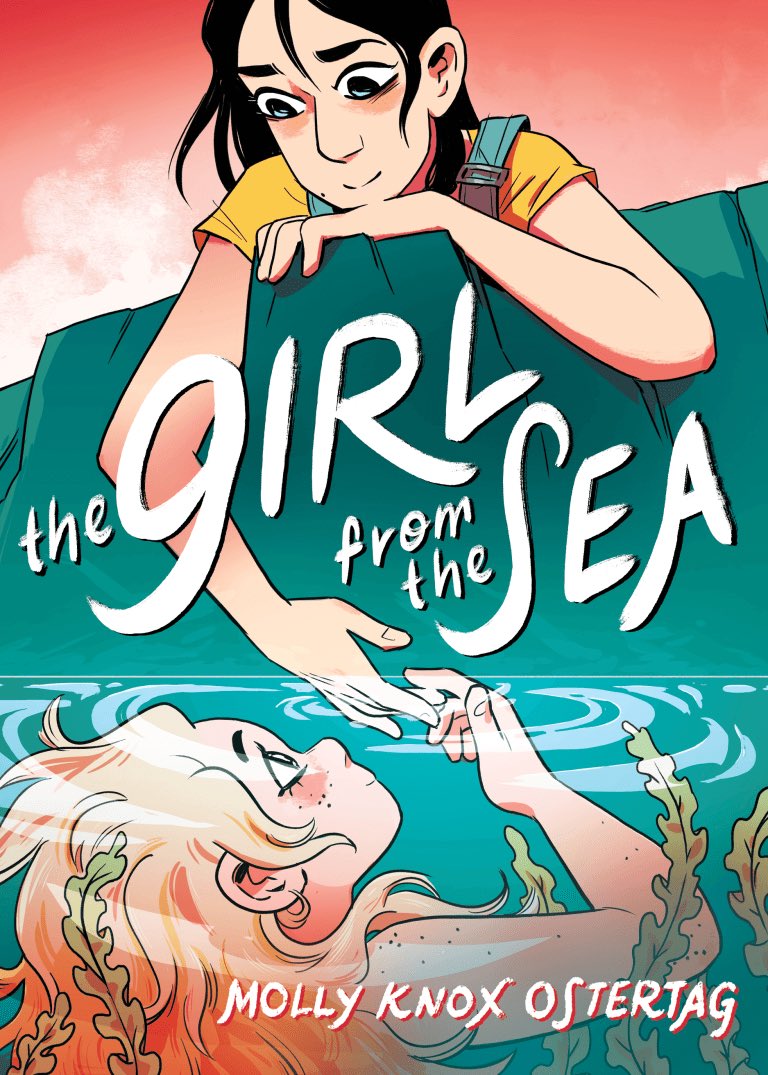 The Girl from the Sea by Molly Knox Ostertag (OV)
Morgan has a secret: She can't wait to escape the perfect little island where she lives. She's desperate to finish high school and escape her sad divorced mom, her volatile little brother, and worst of all, her great group of friends who don't understand Morgan at all. Because really, Morgan's biggest secret is that she has a lot of secrets, including the one about wanting to kiss another girl. Then one night, she is saved from drowning by a mysterious girl named Keltie. The two become friends and life on the island doesn't seem so stifling anymore.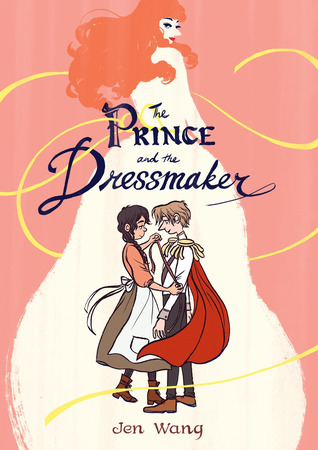 The Prince and The Dressmaker by Jen Wang
Paris, at the dawn of the modern age: Prince Sebastian is looking for a bride ― or rather, his parents are looking for one for him. Sebastian is too busy hiding his secret life from everyone. At night he puts on daring dresses and takes Paris by storm as the fabulous Lady Crystallia! Sebastian's secret weapon (and best friend) is the brilliant dressmaker Frances ― one of only two people who know the truth. But Frances dreams of greatness, and being someone's secret weapon means being a secret.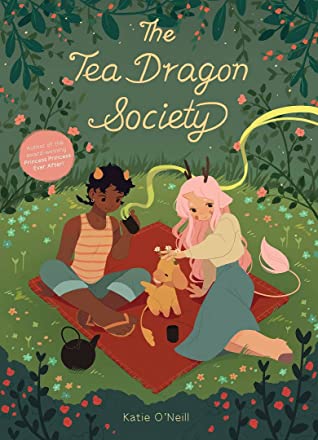 The Prince and The Dressmaker by Jen Wang
After discovering a lost tea dragon in the marketplace, Greta learns about the dying art form of tea dragon care-taking from the kind tea shop owners, Hesekiel and Erik. As she befriends them and their shy ward, Minette, Greta sees how the craft enriches their lives—and eventually her own.
You Brought Me the Ocean by Alex Sanchez
Jake Hyde doesn't swim — not since his father drowned. Luckily, he lives in New Mexico, which is in the middle of the desert, yet he yearns for the ocean and is determined to leave his hometown for a college on the coast. But his best friend wants nothing more than to make a home in the desert, and Jake's mother encourages him to always play it safe. There's nothing "safe" about Jake's future — not when he's attracted to Kenny Liu, swim team captain and rebel against conformity. And certainly not when he secretly applies to Miami University.
last but not least
Of course this compilation of books is neither ultimate nor final. There are many more amazing books with LGBTQIA+ rep, which would have deserved a space on this list. Sadly this list can only be so long and hunting all of the books down isn't possible for me alone. Still, I'm hoping to update and expand this list in the future, so that more readers can find the perfect book and maybe see themselves represented. Please let me know if you think some book is missing and I'll happily check and expand the list! If you want to, you can give a small donation to keep this blog (and the list) up and running!
For more recommendations, please feel free to take a look at my other posts concerning that topic.
credit and blog recommendation
At this point, I'd also like to give some credit to both Imi and Ellie over at beyond a bookshelf. I've realized that our layouts look pretty similar and even though the design of lists can only go so far, it seems that some of their and some of my design choices overlap. Still, their list came first and I don't want to claim the layout as my complete own. For those who don't know: Imi and Ellie collect a wide array of diverse recommendations and are doing an amazing job with that. Their probably most famous list is the Sapphic Masterlist, which you should definitely check out for more in-depth recommendations!