As 2019 comes to an end and we prepare for the new year, it is time to recap my reading year and see which books I enjoyed most. So without further ado, here's my list of favourite reads from 2019 (until now, that is. It's not clever to make this final decision when there are still 4 days left.) in the order of how I read them.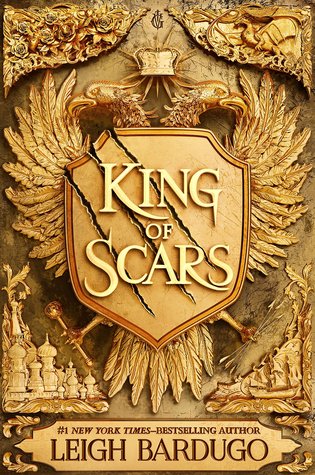 » King of Scars by Leigh Bardugo «
How could I not mention King of Scars on this list? A whole book about my favourite pirate privateer / prince / king? I was so delighted to read this book, though it clearly managed to mangle my heart a bit. Especially the ending – which I won't talk about since I don't want to give away some spoiler-y content – left me hanging. I just wish that the next instalment was already here for me to devour. But alas, I have to wait until it's going to be released.
» The Wicked King by Holly Black «
The Wicked King was a ride of emotions that tore me apart, drowned me in the Undersea and spat me back out. When asked about my favourite book or series, I never really thought about this one – simply because other books were more prominent on my mind. But still, this series is always at the back of my mind, itching and waiting to hit me with full force. I don't want this series to end. I fell in love with the characters, felt their pain and wanted to help them with their schemes. I know that these books deserve more justice from me and I hope I can give it to them in the future.
» We Hunt the Flame by Hafsah Faizal «
Well, what can I say? Hafsah and her writing will someday be the death of me. I was lucky enough to get an eARC of this wildly amazing creation of a book and then I read it again when it was finally released. Hafsah is such a skilled writer and I am still incredibly happy to be a small part of her journey as an author. This book is a wonderful story about friendships, a major quest and many secrets to be unravelled. It's a story about family and fulfilling duties. Everyone – and I cannot stress this enough – EVERYONE should read this masterpiece and be swept away in the wonderful (and terrifying) land of Arawiya.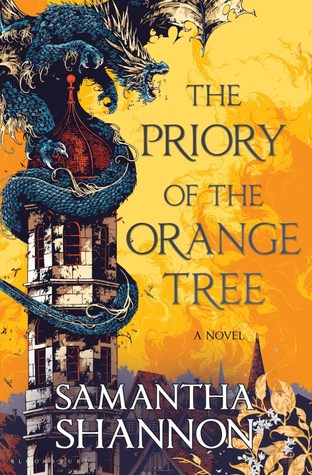 » The Priory of the Orange Tree by Samantha Shannon «
A high fantasy book about dragons, woman warriors, fierce queens and an LGBTQ+ romance is everything I ever wanted in a book. And that's what Samantha Shannon delivered in this brick of a book. Priory (because let's be real – the whole name is way too long to always write it down) was such an intense read with an amazing plot and exquisite characters and a subtle love story that never overshadowed the events in the books but supported it. I hope to read it again soon!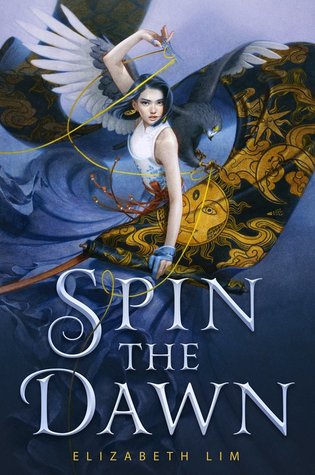 » Spin the Dawn by Elizabeth Lim «
To be honest, I mostly wanted to read Spin the Dawn just because I thought the cover was gorgeous. And I am glad that it went that way. Because the story was even more beautiful than the artwork on the cover. It's a mesmerizing story about a seamstress that has to pose as a man (imagine Mulan but in a sewing competition). About a girl that wants to save her family, because nobody else can do it. It's about magic and love and talent and demonstrating that a girl is not something lesser to a man, just because a whole culture thinks so. It's empowering and whimsical all at once.
» Darkdawn by Jay Kristoff «
Darkdawn might seem to be a bit off in this list – as it is way darker than the rest of the books. But I was so hyped about the conclusion of The Nevernight Chronicle and Jay Kristoff did not let me down. I was extremely emotional while reading the book (and my heart got broken several times), but it was such a worthy ending of Mia's story. Many things I did not see coming and while I initially hoped for a different ending, I am glad the book ended the way it did. Leaving me speechless with just enough happiness to not make me cry again.
» Spinning Silver by Naomi Novik «
One of the last books I read in 2019 was Spinning Silver. It had been sitting on my shelf for quite some time now and it was finally time to pick it up. I hadn't really read the synopsis, so when I plunged into the story, I had no idea where it would lead me. It ended up bringing me into a world of ice and snow (perfect for this time of the year) and told a dreamlike story about a Faerie Kind, a Fire Demon and three mortal girls, that would show how strong they were (both alone and together). The book left me in such aftermath that I still don't know how I'll ever find another beautiful retelling of lore like this one.
Overall I am very glad that I only read books this year which I liked and that not one of them truly disappoint me. I can only hope that 2020 will follow a similar path. Which books did you like best in 2019?
Lots of love,
Jasmin