This week some incredible news reached me – I was lucky enough to become a part of
Hafsah Faizal
's Street Team for her upcoming novel
We Hunt the Flame
which will release on May 14th 2019! You can't imagine how excited I was to be able to support Hafsah and her book. And since I am barely able to contain my excitement about it all, I decided to show you why
We Hunt the Flame
is so amazing and why you wouldn't want to miss it!
First of all, I grabbed my muse (who is a fickle beast) and tried to make a graphic to give you some kind of feeling for the world you could (and should!) enter: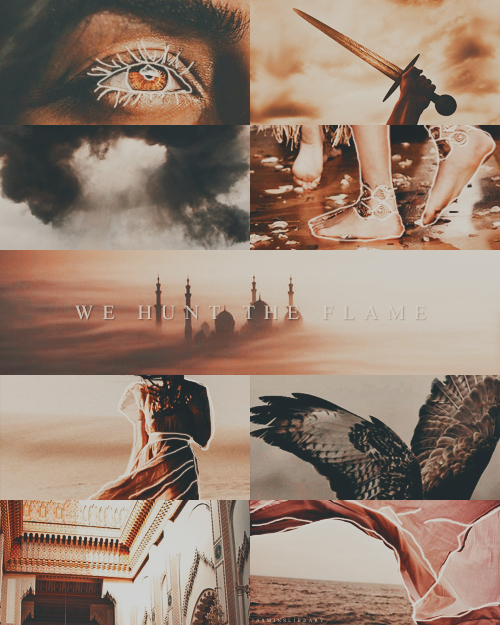 I know, I know – this is barely enough to give you an impression of what will await you in We Hunt the Flame, but maybe it was enough to spark your interest already. But no, to give you an overview of what the story is about, here's the blurb!
People lived because she killed. People died because he lived.
Zafira is the Hunter, disguising herself as a man when she braves the cursed forest of the Arz to feed her people. Nasir is the Prince of Death, assassinating those foolish enough to defy his autocratic father, the sultan. If Zafira was exposed as a girl, all of her achievements would be rejected; if Nasir displayed his compassion, his father would punish him in the most brutal of ways.
Both are legends in the kingdom of Arawiya—but neither wants to be.
War is brewing, and the Arz sweeps closer with each passing day, engulfing the land in shadow. When Zafira embarks on a quest to uncover a lost artifact that can restore magic to her suffering world and stop the Arz, Nasir is sent by the sultan on a similar mission: retrieve the artifact and kill the Hunter. But an ancient evil stirs as their journey unfolds—and the prize they seek may pose a threat greater than either can imagine.
If you haven't fallen in love with the story by now, let me give you some reasons (in no particular order) on why you should definitely give We Hunt the Flame a chance to become your new favourite!
It's a duology. That means twice the fun – and heartache. But that's fine.
The book has a beautiful map to showcase the world.
Enemies-to-Lovers. Do I need to say more?
There will be an audiobook narrated by Fiona Hardingham (An Ember in the Ashes) and Steve West (Strange The Dreamer)!
It is inspired by ancient Arabia, with an amazing cast of characters including a badass heroine – Zafira Iskandar.
Nasir Ghameq – or, the Prince of Death – might be slightly very dramatic.
Hafsah is the most wonderful person ever and never have I seen an author who is so close with her readers!
There are already artworks floating through the web – even though the book hasn't been released yet? Awesome!
If you are intrigued now, I strongly advise you to pre-order the book if you can afford it (of course, I already did that!). Why? Because pre-ordering books will help the author. If you pre-order We Hunt the Flame, bookstores will stock and showcase it. Pre-orders also count toward the first week sales, which will be taken into consideration for bestseller lists – which in turn will make Hafsah happy and also gives her back some of the fan's love for her writing. You can pre-order it via BookDepository or other stores.