One of my favourite reads this year was Crier's War by Nina Varela. It's own voices and features political systems and their flaws, humanity (and what makes persons human), LGBTQ+ representation and found family. Thanks to Caffeine Book Tours I get to be a part of the Iron Heart blog tour and was provided with a copy of the book in exchange for a honest review.
Before we start, I'd like to mention that I'll be keeping this review spoiler-free, but considering that this is the sequel to Crier's War, there might be spoilers for the first book. So please proceed with caution if you haven't read book one.
about the book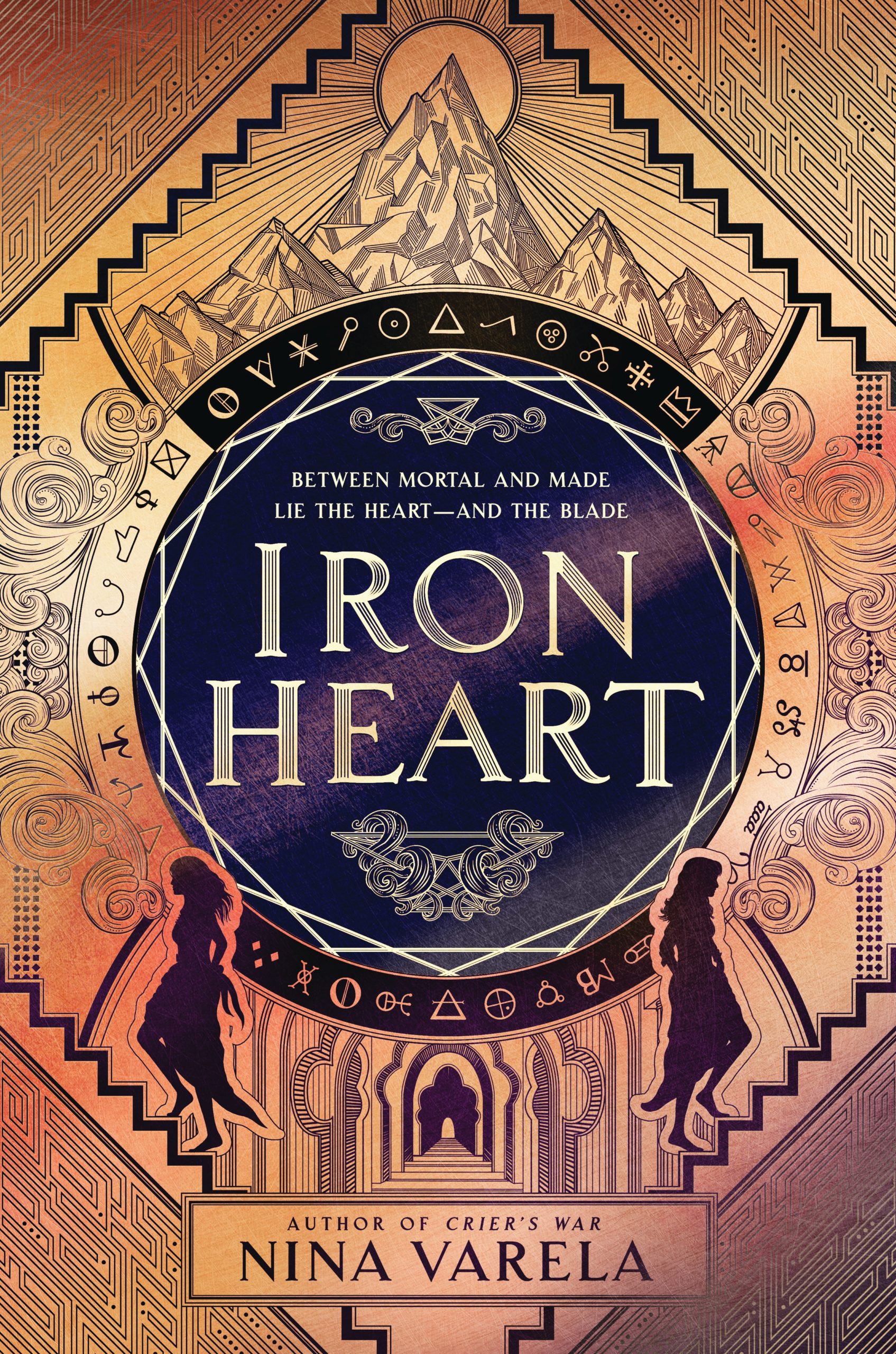 Title: Iron Heart
Author: Nina Varela
Publisher: HarperTeen
Publication date: 08 September 2020
Genres: Young Adult, Fantasy, Science Fiction
Synopsis: An unstoppable love between two girls—one human, one Made—both set on destroying the Iron Heart.
For too long the cruel, beautiful Automae have lorded over the kingdom of Rabu, oppressing the humans who live there. But the human revolution is on the rise, and at its heart is Ayla. Once handmaiden, now fugitive, Ayla escaped the palace of Lady Crier, the girl Ayla had planned to kill . . . but instead fell in love with. Now Ayla has pledged her allegiance to Queen Junn, whom she believes can accomplish the ultimate goal of the human rebellion: destroy the Iron Heart. Without it, the Automae will be weakened to the point of extinction.
But playing at Ayla's memory are the powerful feelings she developed for Crier. And unbeknownst to her, Crier has also fled the palace, taking up among travelling rebels, determined to find and protect Ayla.
As their paths collide, neither are prepared for the dark secret underlying the Iron Heart.
In this stunning sequel to acclaimed author Nina Varela's Crier's War, the love that launched a revolution must now pave the way for a whole new era . . . and the ultimate change of heart.
get the book
review
After finishing Crier's War earlier this year, I was an emotional mess – see my review to see how confused exactly I was! – and I wasn't ready to read whatever Nina Varela would throw at me with Iron Heart. What should I say? I was right and most definitely NOT READY.
The story again follows both Ayla and Crier – after the former tried (and failed) to kill the latter. While Ayla fled into the neighbouring country of Varn, Crier stayed behind in her home country to go through with an arranged marriage. It was kind of sad to see that the two of them were apart after they somehow grew together during the first book. But it made the yearning and pining so much better! To see how the two of them take their time to finally realize and acknowledging their feelings for each other was simply delicious. Still, I appreciate that romance is an underlying current rather than the whole stream. The focus lies on far more important things than just falling in love and I love how the author incorporated the love story into the main events without taking the focus off the latter.
More important to both Ayla and Crier is the fact that their world is on the brink of war and everything they knew might change. On top of that, a new menace arises in the corners of the country, threatening both humans and Automae alike. Even if separated, Ayla and Crier loosely follow the same goal: weaken the Automa rule over the humans (though Crier advocates for a shared lifestyle, Ayla's approach is quite drastic).
The strongest aspect of the book is the depiction of the oppression of one species over one that is thought lesser of, and the subsequent question of "What makes us human?". While the Automae generally see themselves as perfection (some going so far as trying to wipe out the entire human race), some of them acknowledge the differences between them and humans and still try to find a lifestyle that is profitable for everyone. The whole question of "What makes us human?" is strong enough to make me, as a reader, think about it even after finishing the book. The answer isn't as easy as "emotions" (like some Automae) think, but way more complex and is beautifully incorporated throughout both books of the series by Varela.
Overall, I can't go on without raving over Varela's beautiful writing style. It's melodic, poetic, dreamlike. But at the same time fast-paced enough not to bore the reader. It's fast enough to depict amazing action-packed scenes, but also slow enough to show small, heartfelt moments between characters.
The characters – and representation, for that matter – are something else. It was easy to connect with both Ayla and Crier, even though Crier is not human and often quarrels with herself and her emotions. But it is easy to see both of their inner workings, their thoughts, their reasons behind their actions. They are complex and three-dimensional and wonderfully easy to follow along. You don't need to break your neck to see their reasonings and even if you don't have to agree with how they act, you understand them. I'm especially proud of the representation here. There are many LGBTQ+ characters, both in the spotlight and in the everyday life you get to see throughout the chapters. Characters aren't only she/her and he/him, but also they/them (which, in my opinion, we don't see enough in books!) and it all comes naturally, as it should be. There are several forms of love in this book – not just the one between lovers, but also family, friends, love for culture and so much more. Iron Heart is a book of love, even if you might not see it at first glance.
Overall, I deeply enjoyed reading Iron Heart. It's a thrilling sequel and end for the duology, with amazing world-building, wonderful character arcs and a more than satisfying ending to all the loose threads. It prods you to think for yourself and question the order you know. It shows the rights and wrongs of a world that can easily be projected on our own. And most of all, it's a queer book, not only for queer readers but for all readers. I strongly recommend this book if you love sapphic leads, good worldbuilding and overall a book that will stay with you even after you finished it!
Trigger warnings: death/loss of family, depictions of torture and murder, oppression and war, enslavement, emotionally manipulative parent, panic attacks and anxiety, trauma-related flashbacks
You can find the whole list of content warning at Nina's website.
Tags: f/f romance, bi and lesbian MC, POC MC, lady/handmaiden dynamic, mutual pining, slow burn, fake marriage
The rating:
You can also read my review on the following pages: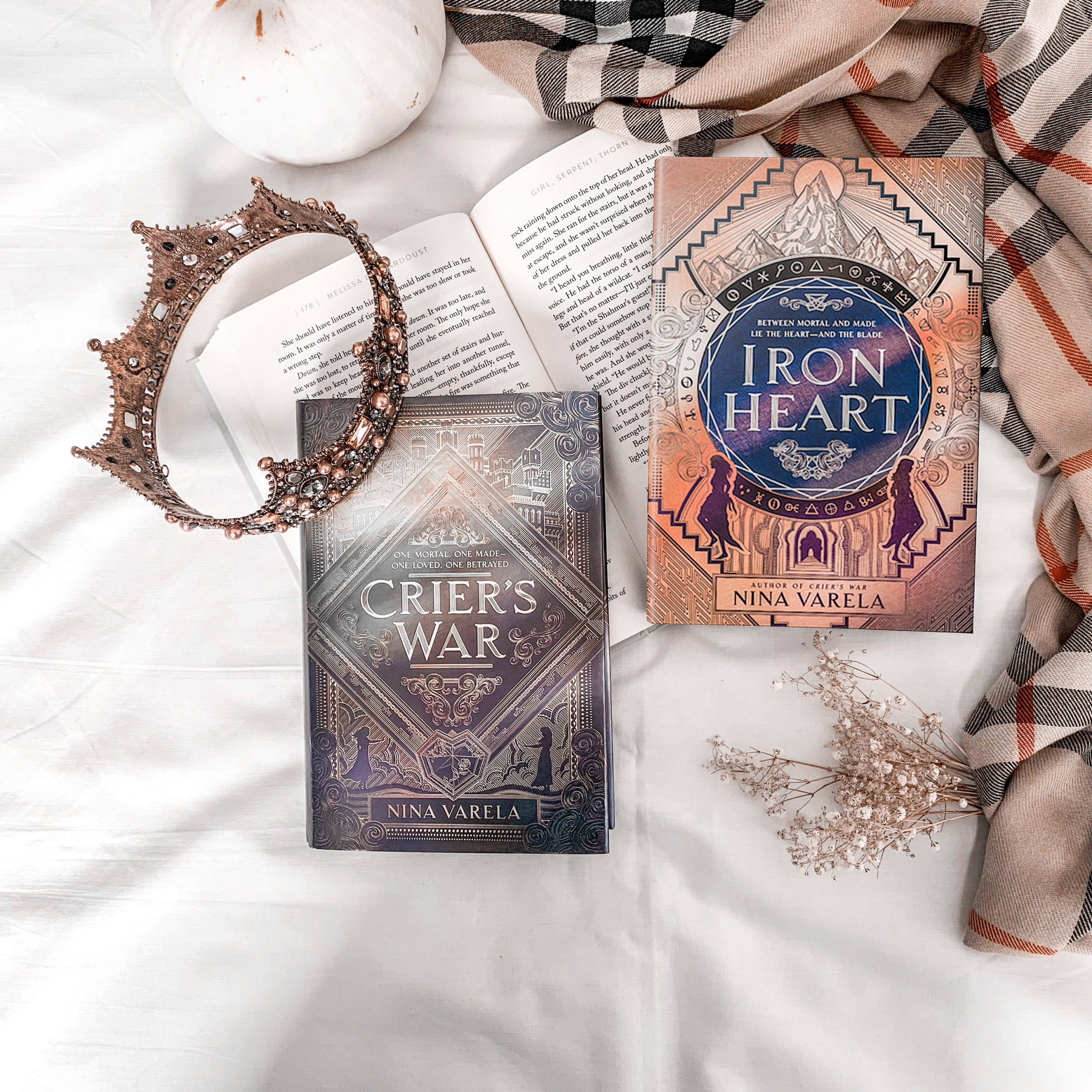 creative input
Because I'm a very visual person, I also decided to put together a Pinterest Board for the Crier's War series – something I only do for my favourite reads, as it takes some time to put it together. It's mostly focused on both Ayla and Crier as main characters.
I rarely write down my favourite quotes of books (something I most certainly should change), but Iron Heart was full of amazing quotes (hence the reason I put several throughout this post) and I just had to visualize one of them. Please feel free to repost it where you want to raise awareness for this amazing duology and Nina Varela as author.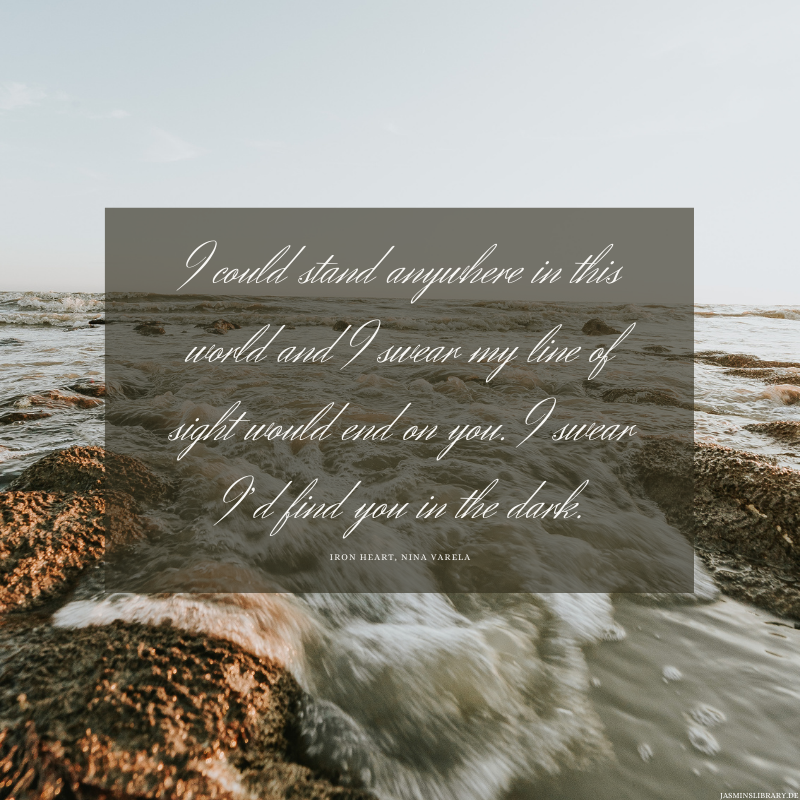 But just creating some pretty visuals just wasn't enough. I'm seriously in love with this duology and I'm kind of sad that it's not as widely known as it should be. So I put together a list of books, that feature similar tropes and if you liked those, you'll definitely enjoy the Crier's War duology as well!
– Girls of Paper and Fire (Natasha Ngan), for the sapphic relationship with strong girls.
– The Priory of the Orange Tree (Samantha Shannon), for strong female leads and a romance that doesn't overpower the plot.
– Truthwitch (Susan Dennard), for an adventure that will change the world and break up the current way of life.
– We Hunt the Flame (Hafsah Faizal), for taking things in your own hand instead of waiting for others to do it.
– An Ember in the Ashes (Sabaa Tahir), for revolutions and uprisings against oppressors.
– Sorcery of Thorns (Margaret Rogerson), for enemies-to-lovers.
author information
Nina Varela is a nationally awarded writer of screenplays, short fiction, poetry, and novels. In May 2017, she graduated magna cum laude from USC's School of Cinematic Arts with a BFA in Writing for Screen & Television. Crier's War was her debut, and this is the sequel. She is originally from Durham, North Carolina, where she grew up on a hippie commune in the middle of the woods. She now lives in Los Angeles.
Author links:

---
other tour hosts
I'd like to shine a spotlight on the other Iron Heart blog tour stops of today. They also came up with amazing posts/videos and it's wonderful to hear about their thoughts!

May @Forever and Everly
Michelle @Magical Reads
Kav @xreadingsolacex
If you want to, you can also check out Caffeine Book Tours Launch Post to see many more amazing book bloggers and booktubers, who are taking part in this amazing blog tour!
Thank you to Jack Redgate on Pexels, who provided the image for the quote graphic.